IBGE's presence at the Federative Caravan is a highlight among mayors, municipal secretaries and general public
September 28, 2023 06h00 PM | Last Updated: September 29, 2023 11h51 AM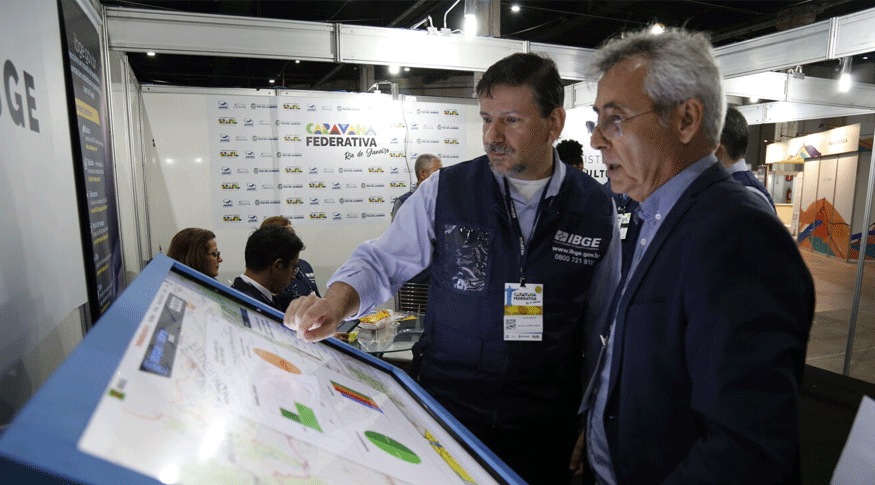 The IBGE's stand attracted great interest of mayors and municipal secretaries during the Rio de Janeiro's Federative Caravan, an event carried out by the Federal Government, taking place on Wednesday, September 28th, and on Friday, September 29th, in the SulAmerica Convention Center, in Cidade Nova (RJ). With lectures and workshops presented by representatives of several public bodies, the event makes federal and state governments' services available for the population. The IBGE's participation incudes the presentation of some of its major surveys.
Rio de Janeiro's Governor, Cláudio Castro, opened the event highlighting the economic importance of the state and the need for a federative integration; André Luiz Ceciliano, Special Secretary for Federative Affairs of the Secretariat of Institutional relations of the Presidency of the Republic, on behalf of the Federal Government, also spoke at the opening ceremony. Moreover, the mayor of Rio de Janeiro, Eduardo Paes, and mayors and secretaries (more than 600) of 91 of the 92 municipalities of the states were present at the event.
"This is the second Federative Caravan, after Bahia, when we had 34 ministries assisting 355 municipalities and 288 mayors, senators and federal and state congresspersons, besides ministers, adding up to 3.5 thousand services rendered. Here at the Federative Caravan of Rio de Janeiro, we have 36 of the 37 ministries. When we serve a municipality well, we are able to solve problems at their root (for citizens). In the secretariat we assisted, from January to August, more than2,5 thousand municipalities, half of the Brazilian municipalities, some of them more than once", claimed Mr. Ceciliano.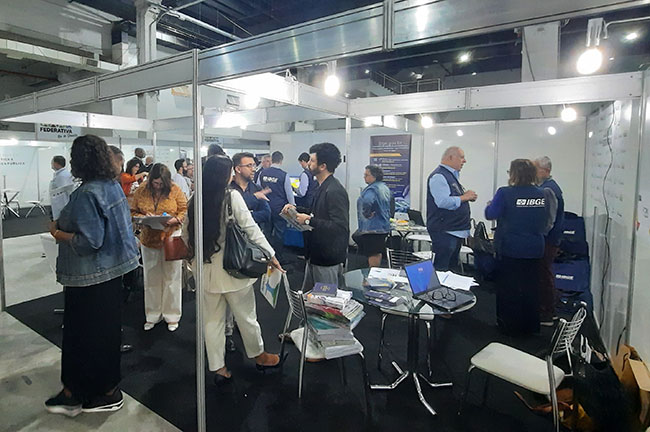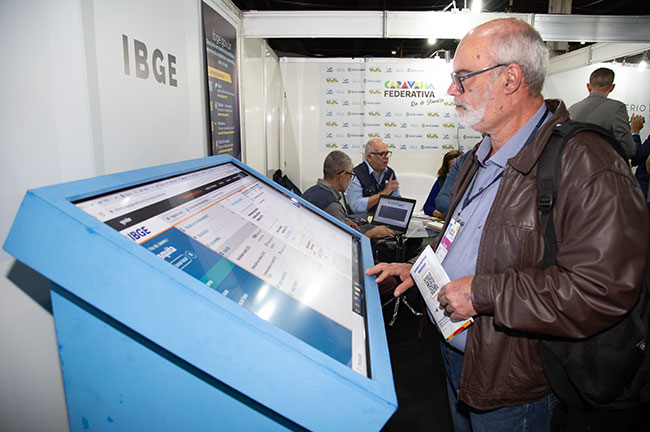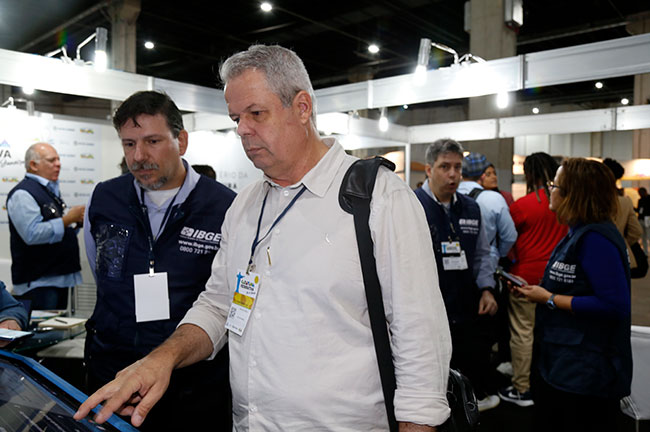 Great interest from mayors

At the IBGE's stand, there was great interest from mayors, municipal advisors and secretaries for the Institute's data. They could clear doubts with the technicians from CEON (Department of On-Line Experiences and Services), who talked to visitors showing the Institute's web site and how to use some of its channels, as well as how to enter the municipality's data into the city hall's web site. The COATI team (Department of Services and Information) cleared doubts on the published data of the 2022 Census, on how to use SIDRA database and on other surveys carried out by the IBGE.
 The remainder is temporarily in Portuguese.
Além de conhecer os principais canais de informação do IBGE, autoridades municipais, parceiros e público que visitaram o estande do IBGE ganharam sacolas com blocos, canetas, mapas, calendários e folders de pesquisas e institucionais, como Informativos Pesquisa Agrícola Municipal (PAM) , Informativo Pesquisa da Pecuária Municipal (PPM), Informativo Estatísticas do Registro Civil, Informativo PIB dos Municípios, Produção da Extração Vegetal e da Silvicultura (PEVS), folder Quilombola, folder Indígenas, Folder Regic, folder Somos mais de 200 milhões e, ainda, filipetas Sistema IBGE de Recuperação Automática (SIDRA). 
O secretário de Agricultura e Pesca de Itaguaí (RJ), Carlos Ribeiro, demostrou especial interesse nos dados do Censo Agropecuário e sobre as definições recentes dos limites territoriais. "Há uma série de questões relacionadas aos limites territoriais. Como secretário de agricultura e pesca, vim buscar um apoio do IBGE. Gostei do atendimento e da troca de informações entre órgãos públicos, prefeitura de Itaguaí e IBGE", afirmou Ribeiro. 
Gilvana Miranda, secretária municipal de Promoção Social e Trabalho de Cachoeira de Macacu (RJ), foi buscar dados sociais do último censo para a secretaria. "Precisamos de dados, como gênero e faixa etária, a serem divulgados em breve, que são importantes, inclusive, para fazermos um comparativo com a base de dados do Cadastro Único para termos uma realidade mais precisa. Esses dados serão utilizados na área de vigilância socioassistencial para planejarmos políticas públicas", informou a secretária.  
Rosi Silva, vice-prefeita de Vassouras (RJ), e Giovani Dornelas, secretário municipal de Urbanismo e Patrimônio Histórico de Vassouras, estavam interessados em dados dos limites territoriais, já que o município teve uma redução e perdeu territórios com atividade econômica relevante. "Trata-se de uma área de indústrias e fazendas do município", lamentou Dornelas. 
Artur Silveira, ex-prefeito de Mesquita (RJ), foi em busca de atualização de dados sobre a cidade que governou de 2005 a 2012. Ele destaca que o IBGE acabou de divulgar o Censo 2022 e há uma série de dados novos, como o mapeamento das comunidades quilombolas e outras informações qualitativas de municípios.  
"Gostei muito. A população de Mesquita diminuiu 0,06%, embora o número de domicílios tenha crescido 15%. Acredito que é um movimento de filhos que constroem novo domicílio no terreno dos pais. Apesar da redução de população, não tivemos diminuição das receitas do Fundo de Participação dos Municípios (FPM); mas havia a expectativa de que a cidade crescesse para 200 mil habitantes e pudéssemos mudar de patamar. Mas, como integra a Região Metropolitana Mesquita é beneficiada pela posição geopolítica, pois vários programas são voltados para regiões metropolitanas", ressaltou Silveira. 
Alberto Lopes, assessor técnico da área de desenvolvimento urbano e meio ambiente do Instituto Brasileiro de Administração Municipal (IBAM), colabora com o IBGE em pesquisas como a Pesquisa de Informações Básicas Municipais (MUNIC). Para ele, a pesquisa vem se desenvolvendo, e o IBGE tem produzido informações cada vez mais detalhadas e qualificadas sobre o que acontece no território do país. "Estamos aguardando agora a divulgação de informações mais detalhadas dos setores censitários, população urbana e rural, domicílios precários, e estamos interessados particularmente na espacialização desses dados. Aguardamos com interesse novas informações do censo", sinalizou Lopes. 
Mauro Cunha, secretário de Planejamento de Casimiro de Abreu (RJ), auxiliou a coordenação do levantamento do censo pela secretaria e tem especial interesse na regularização dos imóveis públicos e empreendimentos imobiliários. "A setorização ajuda-nos a entender como o IBGE verifica as localizações dos imóveis. Hoje Casimiro de Abreu só tem dois Códigos de Endereçamento Postal (CEP) em todo o município. O trabalho do IBGE vai nos ajudar a poder informar aos Correios para que ele possa abrir novas nomenclaturas de CEP", informou Cunha. 
Ele também tem interesse em dados agropecuários que deem visibilidade à produção do município. "Informações que podem gerar mais atratividade para investimentos são importantes para o município. Uma indústria de produção de proteínas, se tiver a informação de que temos os dois maiores produtores de rebanho bovino de raça nelore do estado e o maior rebanho de bubalinos, pode levar isso em consideração na hora de decidir os investimentos", conclui Cunha.