Agricultural production
April estimate for 2023 indicates record harvest of 302.1 million tonnes
May 11, 2023 09h00 AM | Last Updated: May 18, 2023 02h36 AM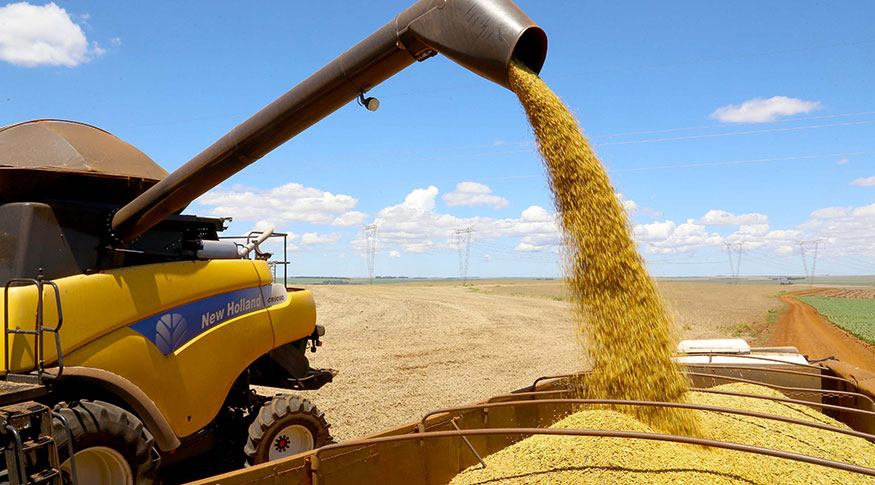 The Systematic Survey of Agricultural Production (LSPA), released today (11) by the IBGE, shows that the national harvest of cereals, legumes and oilseeds is expected to hit a new record in 2023, and amount to 302.1 million tonnes. That means 14.8% or 39.0 million tonnes more than in 2022. Against March, the estimate recorded a hike of 0.8%, with an increase of 2.4 million tonnes. A record is expected in the output of soybean and corn.
The area to be harvested must reach 76.4 million hectares, an increase of 4.3% (3.1 million hectares more) against the area harvested in 2022. Against the previous month, the area to be harvested increased by 266,536 hectares (0.4%).
The highlights in the 2023 harvest are output estimates for soybean and corn, both with record figures. As for soybean, production must reach 149.1 million tonnes, an increase of 24.7% against the 2022 figure. The production of corn is estimated at 119.9 million tonnes, an increase of 8.8% against the same period in 2022.
It is worthy of mention that the output of wheat is expected to reach 9.9 million tonnes. That is an increase of 0.9% from March and only 1.7% below the figures registered in 2022, when Brazil had the biggest harvest in the IBGE's time series.
"In general terms, this year's harvest was benefited by the rainy weather observed almost all over the country, except in Rio Grande do Sul, where there was scarcity of rain in the summer. Last year, rain was even more scarce in the state and that also affected other states," says Carlos Barradas, manager of the LSPA.
The favorable climate was also beneficial to the production of coffee, which increased by 5.5% (3.3 million tonnes) against 2022. "The weather was so good this year that, although we expected a smaller production, due to the biennial nature of coffea arabica, it has increased by 13.0%, and the biennial nature is reversed. Whereas climate in this harvest benefited crops, it damaged them last time," Mr. Barradas adds.
The output estimate of cereals, legumes and oilseeds recorded a positive annual change in five Major Regions: South (28.8%), Central-West (12.6%), Southeast (4.3%), North (11.9%) and Northeast (2.8%). As for the monthly change, the Northeast Region (0.4%), the Central West (0.9%), the Southeast Region (3.3%) and the South Region (0.4%) recorded increases. The North Region recorded a decrease (-0.9%).
Against March, the main increases in estimated were due to sorghum (14.6%), potato- 3rd crop (7.2%), sugarcane (5.4%), beans 2nd crop (2.0%), oat (1.5%), potato - 2nd crop (1.4%), tomato (1.3%), soybean (1.2%), beans - 1st crop (1.1%), beans - 3rd crop (1.0%), wheat (0.9%) and corn - 1st crop (0.1%).
On the contrary, there were drops in output estimates for barley (-2.6%), coffea canephora (-2.0%) and coffea arabica (-0.4%). The harvest of this cereal is usually associated with contracts with national beer companies, which has stimulated production in the country as an alternative to imports of this product.
With a share of 30.7%, Mato Grosso leads national output of grain
Mato Grosso led the national production of grains with a share of 30.7%, followed by Paraná (15.5%), Rio Grande do Sul (10.1%), Goiás (9.6%), Mato Grosso do Sul (8.1%) and Minas Gerais (6.0%). These states together accounted for 80.0% of the national estimate. As for participation of the Brazilian Major Regions, the distribution was as follows: Central-West (48.7%), South (28.0%), Southeast (9.6%), Northeast (8.7%) and North (5.0%).
The main positive changes in the production estimate, from the previous month, came from Goiás (1 298 334 t), São Paulo (496 613 t), em Minas Gerais (423 266 t), Santa Catarina (357 323 t), Ceará (84 379 t), Paraíba (6 156 t), no Piauí (6 009 t), Rio de Janeiro (1 252 t), Espírito Santo (267 t) and Maranhão (1 t). The main negative changes were those of Rondônia (-141 926 t), Paraná (-61 200 t) and Amapá (-260 t).
About the LSPA
Launched in November 1972 aiming at addressing the demand of users for monthly short-term statistical information, the LSPA provides estimates of planted area, harvested area, amount produced and average yield of products selected based on criteria of economic and social importance for Brazil. It not only follows up each crop investigated in the calendar year of reference, from the intention to plant up to the end of the harvest, yet also the forecast of the harvest in the coming year, for which the months of October, November and December are surveyed. Please access the data on  Sidra.