2022 Census in the field
Copan: enumeration in the largest residential building in Latin America
November 28, 2022 10h00 AM | Last Updated: December 01, 2022 02h07 PM
Highlights

Located in the Republic neighborhood, in the downtown area of São Paulo, Copan is one of the main tourist attractions in the city.
Designed by architect Oscar Niemeyer, the S-shaped monument is impressive not only because of its size, but also due to its figures: 32 floors, 22 elevators, 104 employees and a commercial area with 72 stores spread over 120 thousand square meters.
The building houses 5 thousand residents – a population above 22% that in Brazilian cities.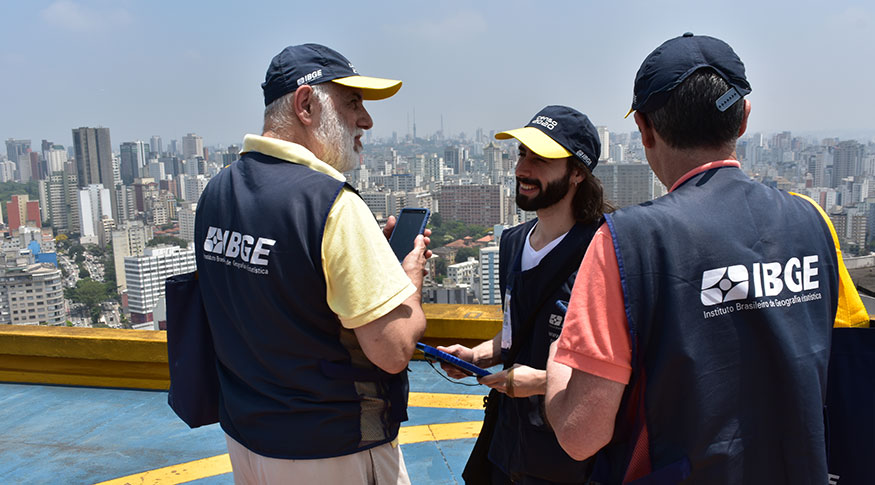 "Something happens to my heart. Whenever I am at the corner of Ipiranga and São joão Avenue...". The classic lyrics of "Sampa", a song by Caetano Veloso, immortalized the intersection of these two famous avenues. City icons such as the Brahma Bar, Metrópole Gallery, Martinelli Building and the Rock Gallery are some examples of historical places on these avenues.
One construction in particular awakens the curiosity of Ipiranga Avenue passers-by. An irregular-shaped building, with sharp curves, made of bricks and reinforced concrete. It is one of the most iconic postcards in the metropolis; Copan Building.
The building designed by Oscar Niemeyer was constructed between 1952 and 1966 and it calls attention not only because of its S-shaped structure, but of its striking figures: a built-up area more than 120,000 m² large, 115 meters high, 1,160 apartments (ranging between kitchenette-sized ones to 200 m² penthouses), 32 floors, 22 elevators, 115 parking spots, 104 employees and a commercial area with 72 shops for 5 thousand residents – a population bigger than that in 22% (or 1,287) of the 5,570 Brazilian municipalities. Currently, the condo is considered the largest group of residential apartments in Latin America.
An impressive monument downtown
Surrounded by busy streets, newsstands and important historical landmarks, such as the Consolação Church, the Municipal Theater and Itália Building, Copan amazes us for its monumental size. Currently, a huge blue net is protecting the entire building, for the repair of its ceramic tiles façade. According to fireman Gutemberg Santos, age 43, Copan has been going through a process of revitalization, but the administration still does not have enough Money to finish the remodel: "Nowadays the condo has some money kept, but the full repair of tiles would cost about R$ 50 million."
As one enters the building, it is possible to see commercial establishments in an area known as Galeria (Gallery). Many shops provide all kinds of services to both residents and visitors, like restaurants, stationery stores, bookshops, laundromats, pilates studios and even film rental shops – one of the few remaining ones in a time dominated by streaming.
October 17: the start of the Census at Copan
In order to conduct the 2022 Census in the building that has seven enumeration areas, two enumerators have been assigned, Antônio Lima and Sérgio Ricardo, both living at Copan. During the beginning of data collection, Antônio and Sérgio, together with supervisor Rafael Canotilho, went to the building penthouse, in order to configure geographic coordinates on their DMCs (Mobile Data Collection Devices). The place also has a helipad (inactive, for it is not long enough for landings).
To get to the penthouse, one has to go up 33 floors in one of the elevators. The short trip is worthwhile as it shows a panoramic view of the city of São Paulo. The city hall, Sé Cathedral, President Viaduct (popularly known as Minhocão, or the Giant Earthworm), Anhembi Samba Parade Facility, Hilton and Jaraguá Hotels, Luz Station, Sport Club Corinthians Paulista Stadium and Jaraguá hills are some places that can be seen.
Before the concrete ocean that forms the landscape, supervisor Rafael, who lives in the Louvre Building (next to Copan), reflects about its personal satisfaction in being in the coordination of a census in an address he has always admired. "When I took the test to work as an ACS (Supervising Census Agent), I wanted to have a good position in the ranking, so I would be able to participate in data collection in my building an in Copan. So, when I saw the results, I was extremely happy. That is a unique place, a landmark of São Paulo. Being part of this work has been a wonderful experience," he says.
Residents support the enumeration
After getting the coordinates, the enumerators set up a table at the Gallery in order to speak to the residents. In order to facilitate census data collection, they listed all the apartments in the 6 blocks (a to F) in the condo. "That was my wife's idea and it does facilitate our work," Mr Lima says. Holding his list, he asks doorkeepers to call the residents to go downstairs to the Gallery. "Some blocks have more housing units; others have fewer. This way, we share the work between each enumerator by housing unit," the supervisor explains.
When noticing the activity of enumerators, one of the residents came closer and said she would like to take part in the Census. Born in Arraial d'Ajuda, Bahia, Ísis has lived in Copan for 4 years, where she shares a 90m² apartment with her mother, sister and father, who has just turned 100 years old. "During the editions of 1980 and 1990, I was an enumerator in the cities of Ilhéus and Rio de Janeiro. While I was collecting data in Leblon (a neighborhood in the state capital), I had the opportunity to meet the IBGE president at the time," she recalls.
After answering the questionnaire, Ísis spared no compliments to congratulate the institute work. "Your coming here is very important and everyone should open their doors to speak with the IBGE, because this visit can evidence what public policies Brazil needs."
As he was walking his dog, Valter Cocarelli, 70, a resident of Copan for more than 30 years, saw the stand and also decided the answer the questionnaire. "It was a very interesting experience. I hope everyone has a social conscience and take part in this process." Also, Mr. Cocarelli remarked about the main changes he has observed in Copan and in the profile of its residents throughout the last decade. "Copan has improved a lot and the building gone through a major valuation process. The profile of residents has changed a lot as well. Most of them were elderly, in the past, but now the building has received a lot of younger people every day."
"The best place in the world". That is how Inês Silva Costa, age 74, describes living in Copan. A resident for 24 years, the retired woman is a great fan of the IBGE and made an effort to interrupt her busy routine and speak to the enumerators: "I can find everything I want here: swimming classes in a public pool nearby, shops, restaurants. Nothing in the world would make me move from this place," she highlights. "I left home, I was heading for the subway when I stopped by the Gallery and saw the Census stand. I decided to participate because I know how important this survey is to Brazil."
About the interaction with residents, enumerator Sérgio stated: "Receptiveness here is very good. I would like to meet persons in the building, I love our talks. In the first week working here, I met an advertiser that had composed a jingle for a department store and that song was very well known in the 1960's. We spent almost two hours talking."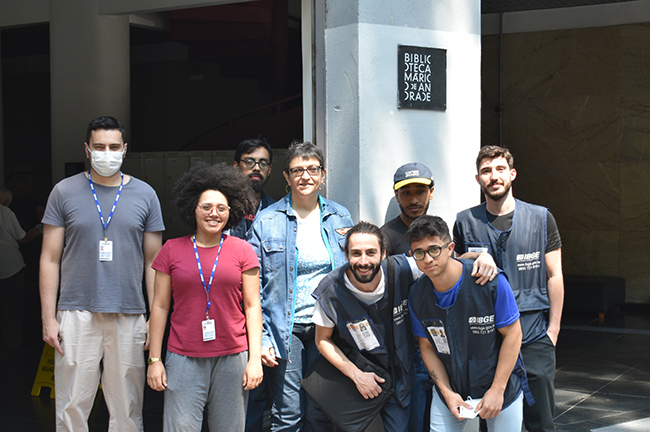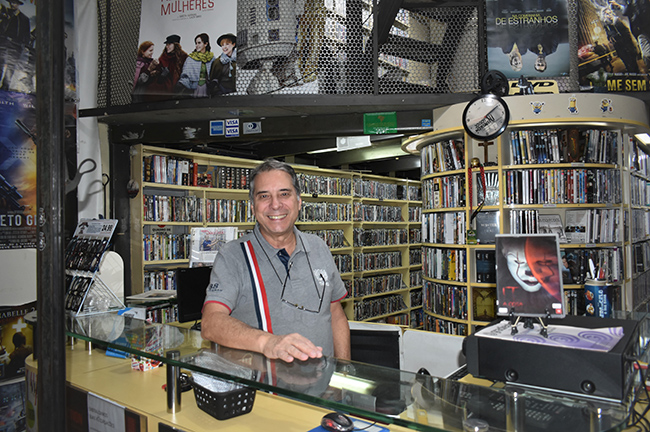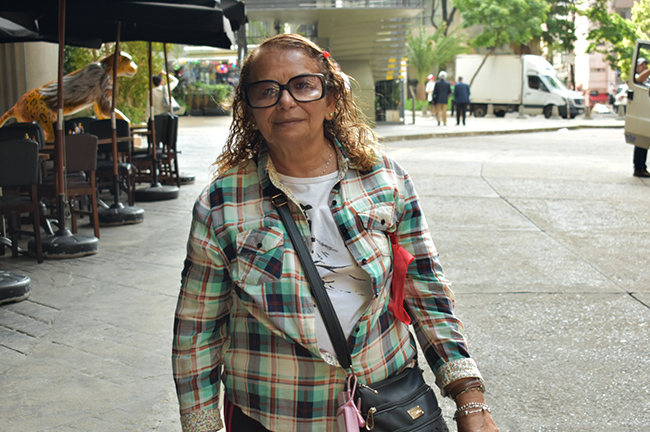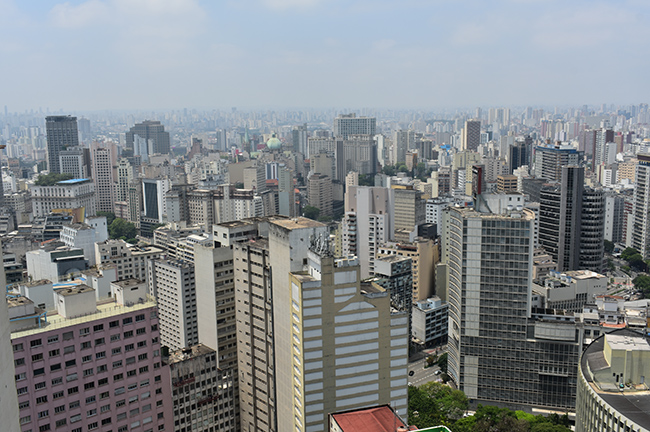 "The Census allows us to know the real origin of our residents"
Antônio, one of the enumerators working at Copan, is the protagonist of a very peculiar life history. With a degree in Architecture and Theater, living in Copan for five years, his personal objective was to enumerate the condo. "I can tell you that fulfills me. Not only because I live here, but because I like so much this building designed by Oscar Niemeyer, the father of Brazilian architecture. Copan is a city, it has a life of itself within the historical center."
This paulistano (a person born in the city of São Paulo), who had worked for the Population Center in 1980 and in the Commercial Census of 1985, stated that his participation in the Population Census was very significant, in terms of persona gain: "I had always had confidence in the IBGE. As an Architecture major, I was very involved with geography and statistics. I remember that I first took part in a Census at the age of 18. I enjoyed it because, besides doing an activity of Nationwide importance, I got to know a lot of people. The Census allows us to know the real origin of our residents."
In the previous editions in which he participated, the Census used a paper questionnaire. So, Mr. Oliveira thought it would be difficult for him to deal with new technologies. However, after some days at work, he had no more difficulty dealing with the DMC. "I was a little afraid because I was not very fond of technology and feared the possibility of problems in the device. In the other Census editions I participated, the survey was written and everything was very rustic, all you needed was a pen and paper. You would take notes, erase them, take more notes, ask for help…The system now is very well conceived. We get guidance by means of our branch and supervisor. Everything is expensive and so far I have not had any problem." .
Data collection unit in an important address
Located on Dr. Bráulio Gomes St, two blocks away from Copan, is the data collection unit República/Sé, which is in charge of supervising the survey in that area. The unit has three well illuminated rooms. "We are in a very well- equipped, easy to get room, close to the subway station," says Victor de Souza, coordinator of area Centro 1. "At the moment, we have increased new hirings, so that more enumerators can work in this area. Besides, in terms of receptiveness, we have no problem. The IBGE is always welcome among local residents."
In addition to the excellent receptiveness, the dialogue between the data collection unit and the supervisors generates positive results. At Copan itself, Rafael explains that, in a week of collection, 75% of the condos had already been enumerated.
Help from the "manager of Copan"
On his table at the mezzanine, surrounded by paper piles, mailing, newspapers and a huge frame with a black and white photograph of Copan, is Affonso Celso Prazeres de Oliveira, age 83, who is in charge of the biggest residential building in Latin America. Popularly known as the "mayor of Copan", his routine is quite busy. While speaking about the history of the building, he was talking to doorkeepers on the handheld radio, watched images on security cameras and answered calls on his private cell phone. "I dedicate 24 hours of my day to work. I've given it all to Copan. This building is my life," he said.
Born in Rio de Janeiro, Affonso first got to São Paulo in 1959 to be a missionary in a church located in Vila Matilde. Its relationship with Copan started in 1963, even before its inauguration, when he decided to live in the building because of its proximity with the campus of Getúlio Vargas Foundation College. In the 1980's, during Janio Quadros' second term of office as mayor of São Paulo, Mr. Oliveira was sub mayor of the Penha district.
He started his building managing career in 1993 and became famous for the revitalization of Copan in a period when the remodel was facing a period of decadence and about to be interdicted due to a number of mechanical problems in elevators and absence of maintenance in its electric circuits.
The "mayor" made a point of commenting on curious episodes of his long professional path, among which are the case of the ghost in the machine room, meeting with famous singers such as Roberto Carlos and Tim Maia on Ipiranga Avenue and his struggle for elderly accessibility in the building. Also, Mr. Oliveira mentioned his most ambitious Project: the creation of Copan Museum, whose collection would be formed by material from his personal collection, objects from FAU-USP (School of Architecture and Urban Planning of the University of São Paulo) and even sketches of the building drawn by Oscar Niemeyer himself.
About the social changes throughout the last decade, he remarked: Today, most residents of Copan are owners; the number of tenants has been dropping over the years. Some apartments are rented by temporary lodging companies. Besides, I can see that every day more and more immigrants get interested in this address."
"The Census plays a very important role in Copan, and, for that reason, we offered a place with a table and chairs where enumerators can work. I hope these pieces of information can help the government improve security and the wellbeing of the surroundings," says Mr. Oliveira. According to the manager, problems related to crime are common in the central area of São Paulo. "Robberies are frequent. I am usually informed of persons being robbed in front of the building. I once got to have a police car here 24 hours a day, but that somehow disturbed the residents."
A curiosity that calls attention in relation to Copan is the number of residents. According to Affonso Oliveira, that is hard to know. "I believe that, currently, about five thousand persons live here. That is the importance of the Census, because only the survey can clear that doubt."
Census challenges in urban areas
For Ana Kazan, Census Commissions Coordinators in São Paulo, IBGE data collection in condos is always a big challenge. "Since 2019, the IBGE has been in contact with building manager associations and unions, real estate administrators, condo workers, electronic access control and security companies, with the objective of disseminating the Census and speaking of its importance to the entire population. In this work, we emphasize care with people's security, in order to guarantee that the enumerator can be identified easily."
As for partnerships, Ana mentions the importance of connection between the Institute and public entities throughout preparations for data collection. "The IBGE in São Paulo counts on the support from the State Secretariat of public Security, whose Military Police facilities are ready to serve the population and the enumerators."
With the cooperation of Guilherme Silva and Marcos Soeira.