Trade
Retail trade grows 1.2% in February, after fall in January
April 07, 2020 09h00 AM | Last Updated: April 08, 2020 08h32 AM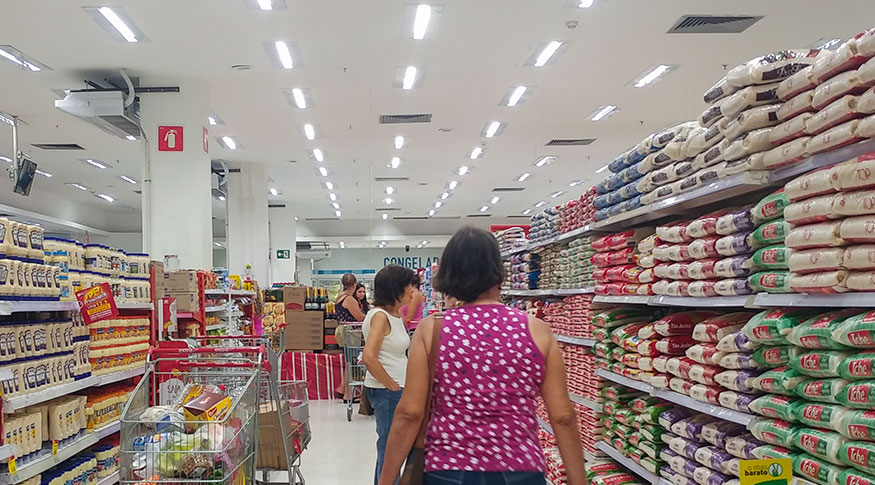 Sales in retail trade grew 1.2% in February, in comparison with January, according the Monthly Survey of Trade (PMC), released today (7) by the IBGE. It is the best result for February since 2016 (1.6%). In relation to February of the previous year, the high was of 4.7%. The institute has also revised the January rate from -1% to -1.4%, mainly due to the addition of primary data in the sector of fuels and lubricants.
In the cumulative index of the first two months of 2020, the retail trade advanced 3% against same period in 2019. For the survey analyst Cristiano Santos, the positive result shows continuity of a path of recovery, with growing rates at similar levels to the last three months of 2019 (2.8%, 3.3% and 2.8%, respectively). "Those numbers might be related to credit expansion and to the decrease in interest rates that has been occurring since the second quarter last year", he explains.
Among the eight surveyed activities, five contributed to the high, especially hypermarket, supermarket, food products, beverages and tobacco (1.5%), furniture and household appliances (1.6%) and pharmaceutical, medical and orthopedic articles, toiletries and cosmetics (0.6%). Fabric, apparel and footwear (1.6%) and other personal and household articles (1.5%) were the activities that also increased against January.
Books, newspaper, magazines and stationery (-3.8%), office, computer and communication material and equipment (-1.1%) and fuels and lubricants (-0.6%) decreased in comparison with January, preventing a higher growth.
Regionally, the positive result was predominant in 21 out of the 27 Federation Units. Tocantins (15.1%), Amazonas (3.5%) and Minas Gerais (2.7%) were the positive highlights. Amapá (-3.8%) and Ceará (-1.7%) were the states with biggest decrease in retail trade sales.
For Mr. Santos, the February result does not show influences from the coronavirus pandemic, because there was no real indicative that the disease would severely affect the country. "I don't believe that it had an impact on the increase in the revenue of supermarkets, for example. The dollar price and the petroleum slope contributed, but the coronavirus effects will begin to show in March", he believes.
With this result, the sector is 4.5% below the record achieved in October 2014. And distant from the lowest rate recorded in November 2019 (-3.9%).
Extended retail trade is back to growth and increases 0.7% in relation to January
The extended retail trade, which covers vehicles and construction materials, increased 0.7% in relation to January 2020, the second consecutive month of positive change. Against February 2019, the sector advanced 3.3%, the eleventh consecutive growth. So, the extended retail trade showed increase of 3.4% for the first two months 2020.
In regional terms, positive results in extended retail trade were predominant in 17 out of the 27 Federation Units, with a highlight to Mato Grosso (5.6%), Tocantins (5.1%) and Minas Gerais (2.8%).