CENSUS OF AGRICULTURE
Census of Agriculture helps mapping out country's ways
October 21, 2019 10h00 AM | Last Updated: October 23, 2019 10h52 AM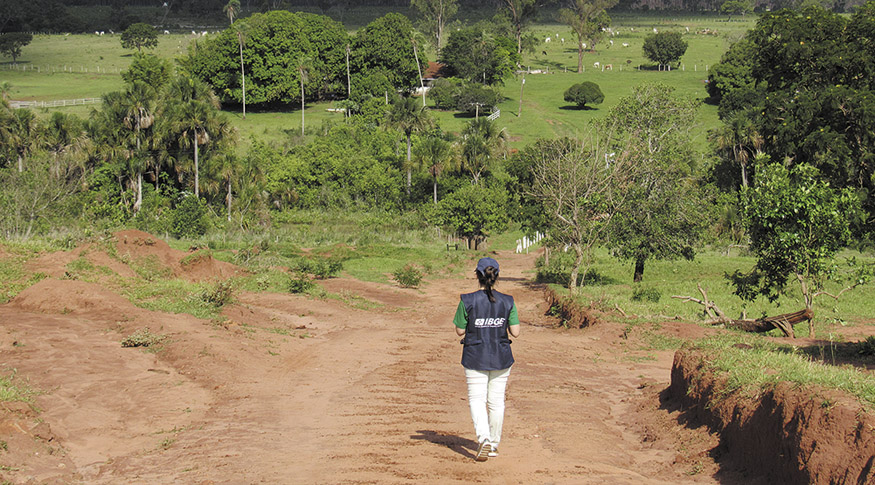 In 2017, the Census of Agriculture visited more than 5 million establishments and involved, besides hundreds of IBGE servers, 20 thousand enumerators. They were in charge of visiting each establishment, record their coordinates, administer the questionnaires and store everything in their DMCs – an acronym for mobile collection device. The devices traced the enumerators' positioning points throughout the operation, and as a result, the IBGE made the Enumerators' Paths available from the 2017 Census of Agriculture.
At first, the ways registered aimed at offering a new collection supervising tool, contributing to make sure the coverage would be universal. However, due to the size and reach of the territory traveled, the paths gained an importance of their own.
"The Enumerators' Paths gave visibility to the trails and back roads that are usually not part of the systematic mappings, but surely help define the best routs to get to the households or establishments that are to be enumerated", explains Fernando Ramalho, of the team of the National Address List for Statistical Purposes (Cnefe), of the IBGE.
With a new application thoroughly developed by the IBGE, based on GPS functions, the DMC could point out the right way, the nearest establishment, whether there were rivers in the way and where to go afterwards, for example. For the first time, in an enumeration process, were the coordinates stored in a systematic way per each small time interval during the collection phase, in order to present the paths traveled by the enumerators cartographically represented.
Fernando Ramalho says that in previous operations the territorial expertise about the ways traveled by the enumerators in remote or hard to reach areas was always lost by the end of the process. "However, with the paths being systematically tracked by this initiative, other agents or census takers will be able to move around in future operations, improving the efficiency of field work", he claims, adding that the whole initiative was carried out free of extra charge for the institute.
The paths of the 2017 Census of Agriculture are available for all municipalities in the kml format, which can be viewed on Google Earth or on other geographic information systems. Wacth the video about the Enumerators' Paths here.