Agriculture
Grain crop estimate rises and reaches 231.5 million metric tons
May 09, 2019 09h00 AM | Last Updated: May 09, 2019 10h45 AM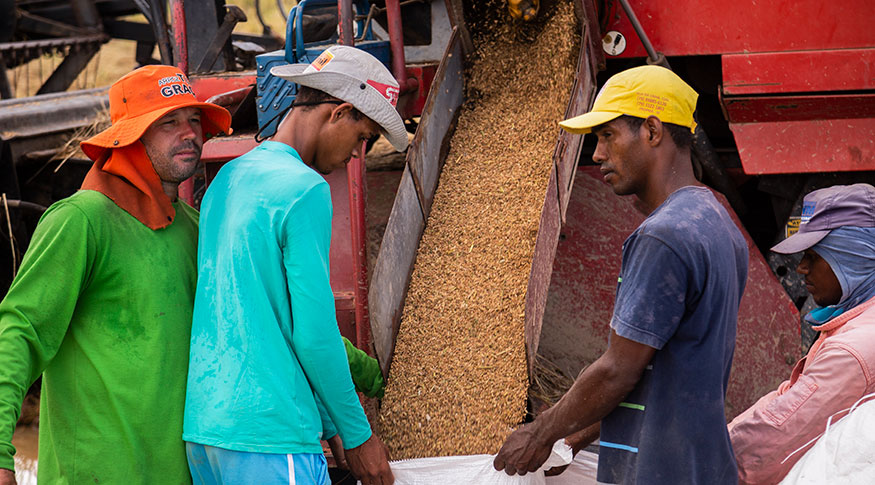 The national grain harvest is expected to reach 231.5 million metric tons in 2019, according to the April estimate of the Systematic Survey of Agricultural Production (LSPA), released today by the IBGE. This result represents a production increase of 0.6% in relation to the previous forecast and of 2.2% in comparison with the 2018 crops.
The area to be harvested was estimated at 62.3 million hectares, 2.2% more than last year (1.4 million hectares) and 0.1% less than the one published in March (48.9 thousand less hectares).
According to survey manager Carlos Antônio Barradas, the increase in production shown in the fourth estimate in relation to the previous one is due to the growth of several products such as corn (up 0.6%, totaling 91.6 million metric tons) , soybean (high of 0.1%, totaling 112.6 million metric tons) and winter cereals: wheat (up 7.1%, totaling 5.5 million metric tons), oat (high of 4.2 %, totaling 795.5 thousand metric tons) and barley (up 14.9%, totaling 357.4 thousand metric tons).
Barradas says that the good weather favors, for example, the second crop of corn with a significant increase in production. "Weather optimism has also contributed to this estimate of increased winter cereal production. As in some wheat producing regions there was early harvesting of soybeans, the planting window of these cereals might be increased," he adds.
Upland cotton production was also a highlight, up 1.8% over the March estimate, totaling 6.4 million metric tons, a record of the IBGE's time series. "Cotton production grew very strongly due to prices and the increase in area and good profits of the previous year. The producer made money, prices remained, so they increased the area of planting, " explains Barradas.