Outras formas de trabalho
Women dedicate twice the time of men to household tasks
April 26, 2019 10h00 AM | Last Updated: April 26, 2019 03h20 PM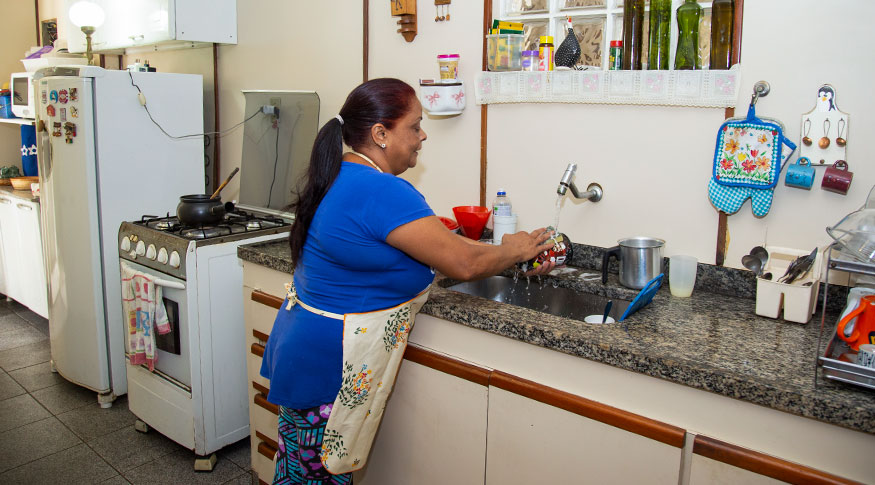 Women dedicated, on average, 21.3 hours per week to household tasks and care of persons in 2018, nearly twice that of men, who spent 10.9 hours in the same tasks. It is unveiled in the Other Forms of Work supplement of the Continuous National Household Sample Survey, released today by the IBGE.
 The situation in the labor market also impacted the least in the domestic work of women. Even working outside the household, women spent 8.2 hours more in domestic tasks than employed men. The difference was even higher between unemployed men and women. In this condition, women worked 11.8 hours more than men.
 The survey estimated that 87% of the population aged 14 years and over accomplished domestic tasks and/or care of residents or relatives in 2018, which represented 147.5 million persons. Such occurrence was higher among women (93%) than among men (80.4%).
 The data also pointed out that women worked even more in the condition of spouse or partner, reaching 97.7% of them, whereas the occurrence was of 84.6% among men in the same situation.
"Along the last three years, the participation of men in the domestic work increased, though women remain the majority and dedicate more hours, even in the same occupational situations as men. This reveals a reality far from equivalent household tasks", comments Maria Lúcia Vieira, the survey analyst.
Of the seven activities surveyed in domestic works, women prevailed in six of them. Cooking was the task with the biggest difference between sexes, with an occurrence of 95.5% among women and 60.8% among men. The presence of men was bigger only in "making small repairs in the household" – 59.2% among them and 30.6% among women.
 Women were also the majority in all the five activities surveyed in care of persons, which takes into account the responsibility for children, seniors and sick persons. The difference between men and women was bigger in activities like helping in personal and educational care and smaller in reading, playing or kidding and transporting or assisting in school, physicians and medical examinations.
 "The difference between sexes in the care of persons was not so discrepant as in household tasks, though women have a quite bigger weight in more essential tasks in daily care, besides doing more tasks", concludes the IBGE analyst.