Cooperação internacional
Brics design new publication with comparable statistics between countries
March 21, 2019 10h00 AM | Last Updated: March 21, 2019 12h59 PM
The IBGE hosted the 10th Technical Meeting of the National Statistical Offices of Brics (Brazil, Russia, India, China and South Africa), held this week in the IBGE headquarters in Rio de Janeiro (RJ). This is the third time that the event is held in Brazil, which aims at producing a joint annual publication with statistics comparing the member countries.
In the opening session, Susana Cordeiro Guerra, president of the IBGE stated that "the cooperation provides the opportunity to improve the exchange of experiences and enrich the array of information available to the respective governments and societies".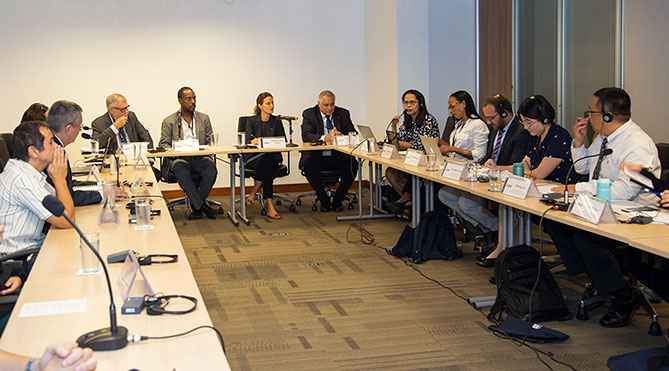 This was the first of two annual meetings. After discussing the format and content of the joint publication, the IBGE will be in charge of consolidating the data, tables and images provided by the partner institutions. The result will be presented in the Brics Summit, scheduled for November in Brasília (DF).
For Roberto Sant´Anna, IBGE´s advisor of International Relations, "the interaction between the institutions is key to the block, because it provides governments with a number of official statistical information on several subjects, which will help them in their decisions".
He also explained how is the international comparison between the data collected and analyzed by countries with different profiles. "Comparability works because the official statistics follow international standards, especially those related to the classifications, concepts and definitions. Concerning labor, for instance, we use the standard of the International Labor Organization, except for local specificities", concludes Sant´Anna.
The representative of India, Onkar Prosad Ghosh, highlighted that this is one of the most important events for the Brics. "India has one of the oldest statistical systems in the world and faces specific challenges due to its super population, only surpassed by China. Whenever big and different countries gather to produce unified data for a long period like the last ten years, this has a very important international meaning".
The Sustainable Development Goals - SDGs are also at stake in the meeting. "India has just published its first document on this subject. We are eager and confident that the exchange of experiences will be enriching, towards a unique platform with concepts in common", concludes Ghosh.