Continuous PNAD
Unemployment resumes growth in first quarter of 2018
April 27, 2018 09h00 AM | Last Updated: June 05, 2018 10h57 AM
The unemployment rate in the quarter ended in March 2018 reached 13.1%, representing an increase of 1.3 percentage points in relation to the last quarter of the previous year (11.8%). The total number of unemployed persons also rose in this period, changing from 12.3 million to 13.7 million. This contingent grew 11.2%, or more 1.4 million unemployed persons in Brazil.
The comparison between these two quarters unveiled a reduction of 408 thousand persons (-1.2%) in the total number of persons employed in the private sector with a formal contract. This information is part of the Continuous National Household Sample Survey - Continuous PNAD related to the first quarter of 2018, released today by the IBGE.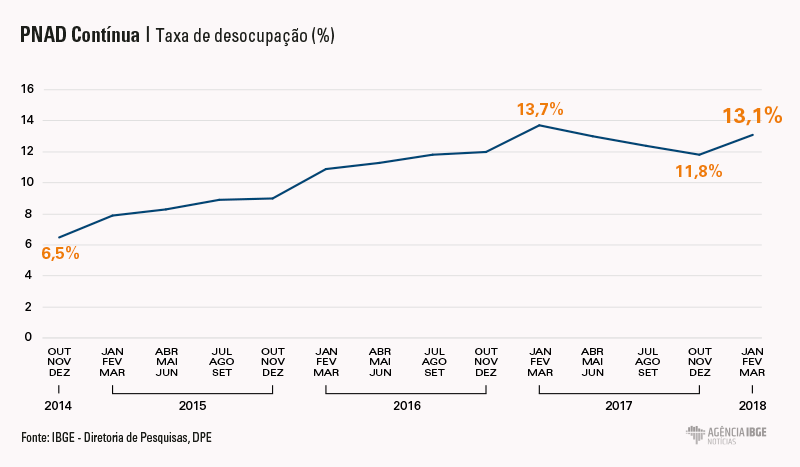 According to Cimar Azeredo, IBGE´s coordinator of Labor and Income, the increase in unemployment is expected in this period of the year, caused by the dismissal of temporary workers. "In spite of a seasonal movement, a significant dismissal of workers took place, causing a significant loss of job positions and the increasing number of persons in the unemployment line".
Also according to the coordinator, employment dropped in every form of insertion in the private sector, either with formal contract or not. As a result, the contingent of employed persons hit 90.6 million persons in the quarter from January to March, standing 1.7% lower than that registered in the previous quarter. It represented a reduction of 1.5 million employed persons.
It is also important to highlight the decrease in the number of job positions in Industry (2.7% or less 327 thousand persons), Construction (5.6% or less 389 thousand persons) and Trade (2.2% or less 396 thousand persons). "These groups recorded relevant drops, particularly construction. There are several works and major real estate investments on hold, which impacted this result", clarifies Cimar.