In digital format
IBGE releases new edition of Brazil in Figures illustrated with works from the Museum of Nature
September 29, 2023 10h00 AM | Last Updated: October 02, 2023 01h40 PM
Highlights

Annual publication gathers more than 30 authors in more than 500 pages.
A total of 23 chapters present analyses based on statistics and information produced by the IBGE and partner institutions on Education, Health, Housing, Labor, Environment, among other topics.
Every edition is illustrated with works from a museum. In 2023, images are from the Museum of Nature, located within the Serra da Capivara National Park, in the state of Piauí.
The e-book is a bi-lingual edition available in Portuguese and English.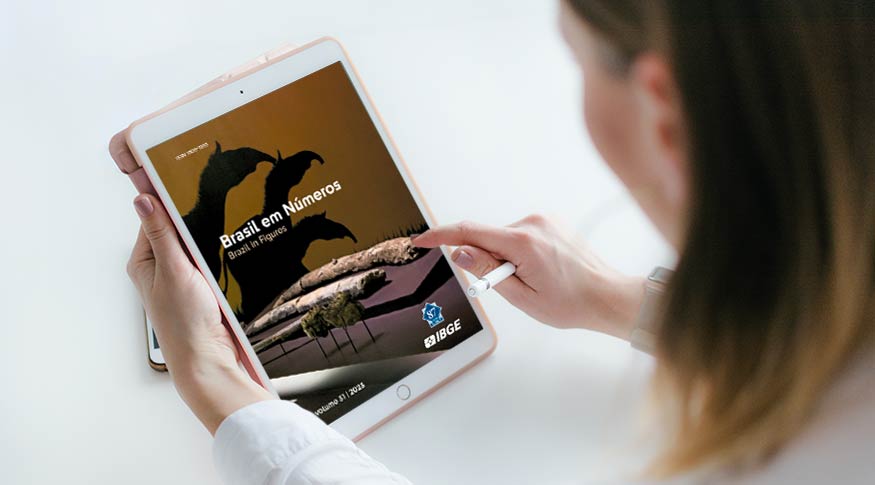 The IBGE releases today (29) the 31st edition of Brazil in Figures, an annual publication that presents information and analyses on multiple aspects of the Brazilian reality. The work is formed by contributions fro more than 30 authors, including historians, geographers, demographers, economists and other scholars, in almost 500 pages of texts with graphs, tables and photographs. Brazil in Figures has 23 chapters subdivided into topics such as labor, education, health, environment, public finances and political participation, among others. The publication is available online, a bilingual e-book in Portuguese and English versions.
Each edition of Brazil in Figures is Illustrated with works from a museum. This year, images come from the Museum of Nature, located within the Serra da Capivara National Park, in the southeast of Piauí, which will also host the release of the publication, at 4 pm. Built in an area mostly formed by archaeological sites, the Museum of Nature invites the visitor to join a multisensory Journey, by means of a narrative presented throughout the visiting experience, which shows the creation of the universe and the effects of climate on the ongoing transformation of the fauna and flora.
Also as part of the publication, the IBGE held the Brazi in Figures Seminar at the auditorium of Vale do São Francisco University (Univasf), in São Raimundo Nonato, Piauí. Many authors and members of the academic community took part in discussions about the main topics approached in the publication.
"With Brazil in Figures, the IBGE intends to portray Brazil by making use of statistics, academic knowledge and art," says the project coordinator, Isabela Torres. "This book is directed to the entire Brazilian society and also to the international community, as it is a bilingual publication."
Brazil in Figures has been published every year since 1992. Besides information produced and provided by the IBGE, the authors use data from institutions such as the Central Bank of Brazil, regulatory agencies, Federal Ministries and other public bodies.