Education
Virtual School offers free on-line course of SIDRA
August 23, 2023 10h00 AM | Last Updated: August 23, 2023 04h17 PM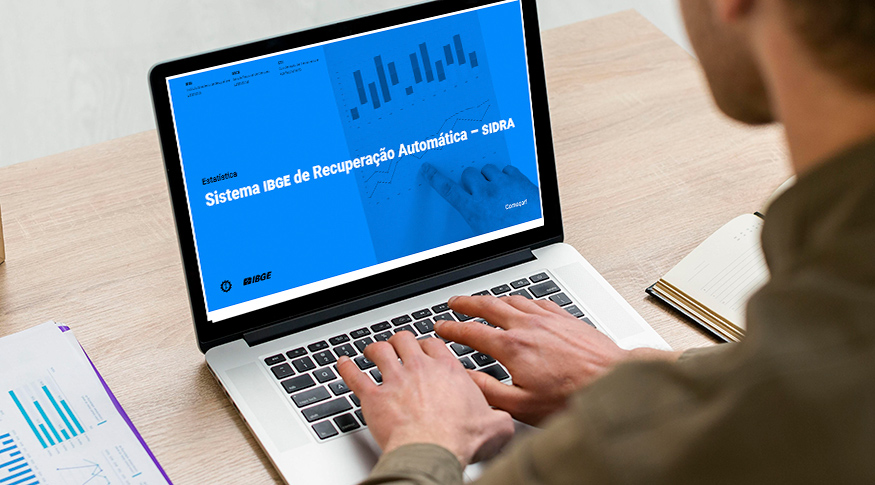 Those interested in learning how to tabulate statistical data in the IBGE System of Automatic Recovery (SIDRA) can enroll in the free on-line training offered by the IBGE through its Virtual School (EVI). The course is open to the entire society, requiring that participants have completed Secondary Education.
In the classes, students will accomplish surveys, build charts, obtain rankings, do downloads and produce graphs and cartograms from the IBGE surveys. The workload is 25 hours, which can be met according to the availability of the participants. There is no pre-defined number of seats, and the offer will be open until November 30, 2023. Enrollments will be accepted until November 20. An institutional email is required to register.
Paulo Tostes, IBGE´s Coordinator of Training and Improvement, explained that "participants learn how to navigate in the platform, select relevant indicators, cross information and create significant data visualizations". These skills not only allow to better understand the socioeconomic and demographic scenario in Brazil, but also train individuals to effectively contribute to the their respective areas, basing their decisions on sound evidences."
In the case of IBGE officers, enrollment can be made here. Interested persons should fill the form available here. Persons from other institutions, either public or private, should have an institutional email to enroll.
Democratization of the statistical information
SIDRA training was offered for the first time in 2018 and counted with participants from different public and private institutions: executive, legislative and judiciary officers, public prosecution officers, graduation and post-graduation students, workers in tourism and geo-marketing companies and NGOs, among others.
Responsible for the design of the course, Hugo Campo, Education Designer of the IBGE´s Coordination of Training and Improvement (CTA), explains that the language adopted and the way it was designed aim at addressing a target audience beyond the IBGE. Carried out in partnership with the Center for Information Dissemination and Documentation (CDDI), it aims at leveraging the access to statistics. At the same time that we teach how to consult data through SIDRA, we present every survey carried out by the IBGE, varying the examples and establishing links with stories and posts in the social media," said him.
And he complements: "When I learned the diversity of such audience, with different yearnings and searching for IBGE data, I understood the strategic role of the SIDRA course in the democratization of information, thus contributing to the development of public policies to subsidize business decisions and leverage academic research, among other contributions."
To Paulo Tostes, the analysis of statistical data is a key component in any effort of survey and development. "Whether in the formulation of public policies, in the identification of market trends, in the assessment of the impact of social programs or in academic studies, the SIDRA course provides the required skills to turn numbers into actionable insights," concludes him.