2022 Census
IBGE launches 2022 Census Guide for journalists
June 29, 2022 04h30 PM | Last Updated: June 30, 2022 11h40 AM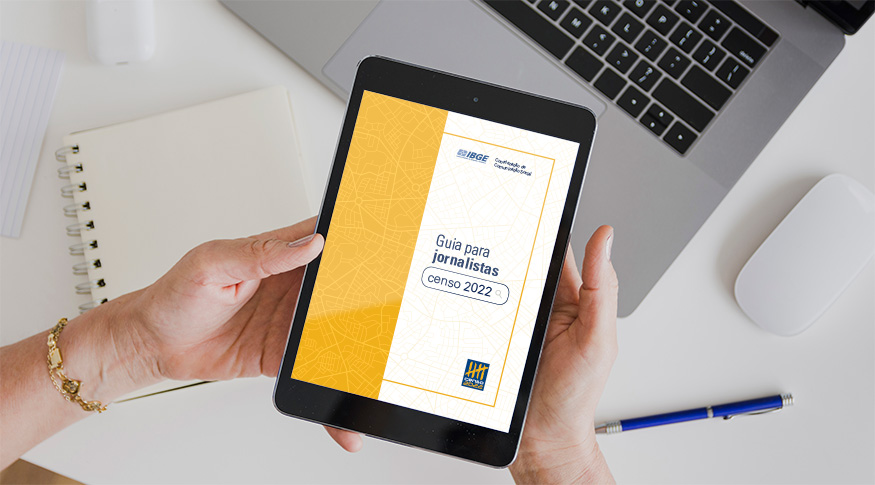 On Monday (27), the IBGE released the 2022 Census Guide for Journalists, aiming at helping media professionals to cover the census operation and at mitigating the occurrence of errors and incomplete information. By covering the major subjects of the census in short terms and objective language, the publication can inspire stories about the census. The guide will also serve as a permanent source for different audiences like authorities, researchers, students and IBGE partners.
Produced by the Coordination of Social Communication and revised by Census experts, the e-book is divided into nine chapters:
- Overview of the 2022 Population Census
- 150 years of censuses in Brazil
- Technological design
- Territorial base
- Traditional communities and peoples
- Human Resources and training
- Institutional relations and Census Planning and Monitoring Meetings (Repacs)
- Questionnaires
- IBGE´s quality standard
The Guide includes some multimedia resources, i.e., in addition to texts, it brings photographs, maps, infographs, videos, audios and hyperlinks for contents of the IBGE Portal, Census Portal and IBGE News Agency. The graphic design includes elements of the visual identity of the 2022 Census like trademark and characters.
"The idea of the e-book is to show readers the way to understand in a light and interactive way how a complex operation like the Census works," stated Adriana Gonçalves Saraiva, content editor of the IBGE News Agency.