RBG
Search engine streamlines access to Journal of Brazilian Geography collection
May 26, 2022 10h00 AM | Last Updated: May 26, 2022 04h30 PM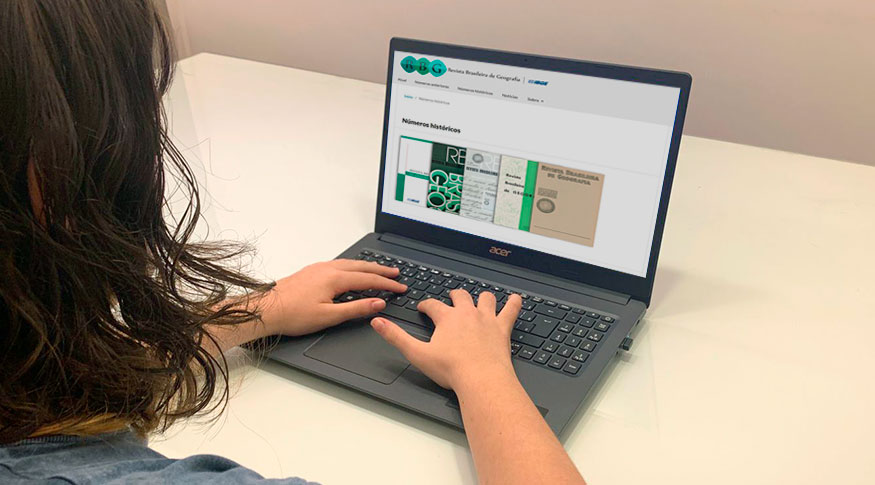 As of today (26), readers of the Journal of Brazilian Geography (RBG) can access old editions of the publication by means of a search engine. All the contents of the editions published between 1939 and 2006, when the journal was printed, can be accessed based on keywords, author´s name or work title. The search engine is already available on the publication´s page.
To find a work published in the RBG before 2016, one should browse the indexes and download the full edition. "This feature will provide immediate access to the desired contents in a faster and easier way, streamlining the search of individual articles without the need to download full editions," explains Maria Lucia Vilarinhos, executive editor of the journal.
In an easier way, readers can access classic articles of major names of the Brazilian and international geography, like Aziz Ab'Saber, Orlando Valverde, Lysia and Nilo Bernardes, Fábio de Macedo Soares, Milton Santos, Bertha Becker, Roberto Lobato Corrêa, Leo Waibel, Preston James, Francis Ruelan, Emmanuel de Martonne and so many others who were key to the geographic studies in Brazil.
The journal also includes articles of associated areas like Geomorphology, Climatology, Geodesy, Cartography and Toponymy.
"It is possible to find the distinct drawings in pencil and pen of Percy Lau, in the Types and aspects of Brazil section, for which he produced his works since the fourth edition of volume 1 in 1939 up to 1965," says Vilarinhos. By reading old editions, it is also possible to follow up the evolution of the legislation related to the Brazilian territory, as well as to read news reporting international scientific events.
According to the editor, the dissemination of these events through the RBG was very relevant for a number of areas of knowledge and exerted a strategic role for the national academic and technical communities, as well as for the Brazilian public administration. "Articles, news, commentaries and illustrations are handier than ever, as well as the valuable collection of photographs and maps included in classic articles, portraying several regions and landscapes," highlights her.
About the RBG
Edited by the IBGE, the Journal of Brazilian Geography (RBG) is one of the oldest and most renowned technical-scientific publications in Brazil, in the area of Geography and related sciences. Except for few editions, the RBG was published on a four-month basis for nearly 70 years, between 1939 and 2006, being considered a reference journal. Many of its articles paved the way for knowledge, becoming classics, both in Brazil and abroad. The IBGE resumed its publication in 2016 under a new format, as a biannual electronic edition.