Agricutural production
Harvest estimate for 2022 decreases by 1;0% in March, but record output is still expected
April 07, 2022 09h00 AM | Last Updated: April 08, 2022 02h37 AM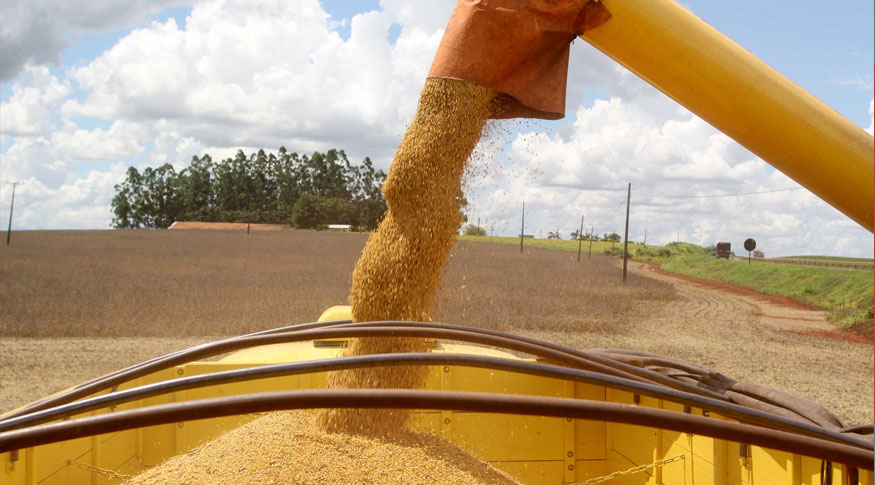 According to the March estimate of the Systematic Survey of Agricultural Production (LSPA), released today (7) by the IBGE, the national harvest of cereals, legumes and oilseeds will reach 258.9 million tonnes. Against the previous month, there was a decrease by 1.0%, or 2.7 million tonnes. Despite the decrease, output is expected to exceed by 2.3% the total harvested last year and hit a new record, being above the figures in 2020, when a total 255.4 million metric tons were produced.
The remaider is temporarily in Portuguese.
A queda na estimativa de março foi impactada principalmente pelo declínio da soja, cuja produção deve ser 5,6% menor do que o previsto no mês anterior. De acordo com o gerente de agricultura do IBGE, Carlos Alfredo Guedes, a queda da estimativa do grão se deve aos problemas climáticos enfrentados em importantes regiões produtoras, como os estados do Sul. "Houve uma estiagem que durou de novembro do ano passado até janeiro deste ano e isso prejudicou muito a safra do Rio Grande do Sul e do Paraná", afirma.
Com a quebra da safra dos estados do Sul, Goiás deve se tornar o segundo maior produtor nacional de soja, atrás apenas de Mato Grosso, que responde por quase um terço da produção brasileira da leguminosa. Já o Paraná e o Rio Grande do Sul, marcados pelos problemas de estiagem, devem produzir 41,1% e 53,5% menos soja do que a safra anterior, respectivamente. Com as perdas, a participação da soja no volume total de grãos deve cair para 44,9%.
A falta de chuvas também prejudicou a produção da primeira safra do milho, que foi estimada em 24,7 milhões de toneladas em março, o que representa queda de 3,8% frente ao previsto no mês anterior e de 3,9% em relação ao produzido no ano passado. "A expectativa é de uma boa produção na segunda safra do milho, que deve ter aumento de 40,4% na comparação com 2021. Com a alta de preços no mercado internacional e os investimentos nas áreas de cultivo, a produção deve crescer e ser um novo recorde na série histórica", diz o pesquisador. Ao alcançar 87,2 milhões de toneladas, a segunda safra do milho deve ser 4,9% maior do que o divulgado no mês anterior.
O arroz foi outra cultura atingida pelos problemas climáticos. "Essa é uma produção muito concentrada no Sul, especialmente no Rio Grande do Sul, que deve ter uma safra 10,6% menor do que a de 2021. Nesses estados, faltou água para irrigação e a produtividade caiu. Na comparação com o ano passado, a produção nacional teve queda de 8,0%", afirma Guedes.
A produção da primeira safra do feijão também foi prejudicada devido à falta de chuvas nos três estados do Sul. Mesmo com as adversidades enfrentadas por esses estados produtores, essa safra deve atingir 1,2 milhão de toneladas, com aumento de 2,0% frente ao estimado em fevereiro.
A primeira safra representa 38,2% do total de feijão produzido no país. Somando as três safras, a produção do feijão deve chegar a 3,2 milhões de toneladas, aumento de 3,0% frente à previsão do mês passado e de 13,9% na comparação com a colheita do ano anterior.
Já a produção de café, considerando as espécies arábica e canephora, deve atingir 3,4 milhões de toneladas, aumento de 14,4% em relação ao ano passado. "Para o café arábica, o ano é de bienalidade positiva, ou seja, quando teremos alta produção. Frente ao ano anterior, o crescimento de produção dessa espécie será de 20,9%.  Apesar do crescimento, essa safra poderia ser maior, não fossem os problemas de clima, como geadas e períodos de altas temperaturas, que os estados produtores enfrentaram em 2021", explica Guedes.
O Brasil é o maior produtor e o maior exportador de café do mundo. O café arábica representa 69,1% de todo esse café produzido no país e sua produção está concentrada principalmente em Minas Gerais, São Paulo e Espírito Santo. Por causa do inverno severo no ano anterior, algumas regiões produtivas tiveram suas lavouras atingidas, o que pode ter diminuído o potencial para este ano.
Com os problemas climáticos na região, apenas o Sul teve sua estimativa de produção retraída (-5,9%) frente à previsão de fevereiro. A região sulista deve produzir 65,1 milhões de toneladas e responder por 25,2% do total do país. As demais apresentaram alta: o Norte deve alcançar 12,7 milhões de toneladas (avanço de 2,2%), enquanto a estimativa de produção do Nordeste teve alta de 1,6%, totalizando 25,1 milhões de toneladas.  Já a do Sudeste cresceu 0,4% e a produção deve chegar a 26,9 milhões de toneladas. Com avanço de 0,5%, a produção do Centro-Oeste foi estimada em 129,1 milhões de toneladas.
Sobre o LSPA 
Implantado em novembro de 1972 com o propósito de atender às demandas de usuários por informações estatísticas conjunturais mensais, o LSPA fornece estimativas de área plantada, área colhida, quantidade produzida e rendimento médio de produtos selecionados com base em critérios de importância econômica e social para o país. Ele permite não só o acompanhamento de cada cultura investigada, desde a fase de intenção de plantio até o final da colheita, no ano civil de referência, como também o prognóstico da safra do ano seguinte, para o qual é realizado o levantamento nos meses de outubro, novembro e dezembro. Acesse os dados no Sidra.