My Capital
IBGE releases e-book collection on Brazilian capitals for young readers
January 12, 2021 02h00 PM | Last Updated: January 12, 2021 06h35 PM
The IBGE has released today (12) "My Capital", a collection of digital books about each of the 27 Federation Units in Brazil. Every edition, consisting of short illustrated texts, will be available for download at the IBGE Book Shop. Belém (PA) opens the collection, as the city todays celebrates its 405th anniversary. The remaining volumes will be made available throughout 2021 on the foundation date of each of the capitals.
The books are directed to child and teen audiences and show light and playful descriptions of capitals, by presenting their main features, tourist attractions, cuisine, culture, besides peculiarities of each location.
"As the e-book is youth-focused, typical views and attractions are its main elements, always portrayed in an attractive way to teens and children and also beautifully illustrated by designers from different segments of the Institute. Texts and images were composed in patnership with information dissemination supervisors from each Federation Unit," says IBGE analyst and author Agláia Tavares.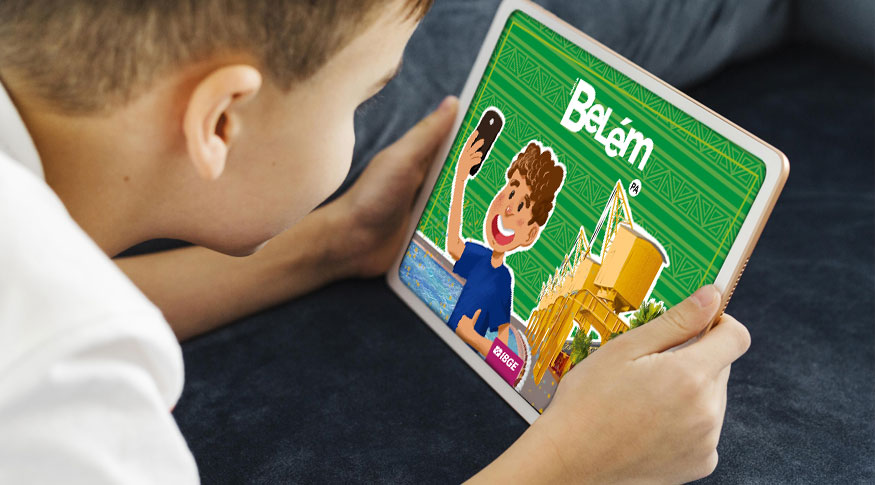 Marketing coordinator Izabelle Oliveira recalls that the project, conceived by former director of Covid 19 this year, started to be planned in 2017. "My Capital" would be launched as a printed last year, but ended up becoming a digital product due to the pandemic.
"A release strategy was to postpone the release date for 2021, and use the date of foundation of each capital, when IBGE usually posts something on the web. The idea is to interact with our public," Ms. Oliveira explains.
See some highlights in this first edition about Belém
-The e-book shows that Belém was founded in 1616 by Francisco Caldeira Castelo Branco, who built the Natigvity Scene Fort to prevent the Dutch, French and English from reaching the Amazon. The city is inland, but has 39 islands surrounding it.
- From the Docas Station, which is part of the ancient port of Belém, boats depart and make it possible for one to visit islands such as Cotijuba, with its 15 kilometers of beaches, or Combu, at the Guamá River shore.
- Every year a crowd takes part in the biggest Catholic procession in the world, called Círio de Nazaré, traditionally held in October.More than two million persons gather in the ciy streets for the annual celebration.
- The famous Ver-o-Peso Market is formed by two iron markets, besides a big open fair where one can buy herbs, honey and typical products such as acai, airmapá milk, jatobá tree sap, andiroba, copaíba and cheiros do Pará (fragrances made of local products).
- Our Lady of Mercy Church, located at Rio Branco Viscount Square - also al fragrance known as the Mercy Square - still keeps several of its original features. The Republic Square houses a popular fair every Sunday, at a location close to the Trade Museum of Pará State. Experimental Theater Waldemar Henrique, which replaced the old Trade Museum of Pará State, and the majestic Teatro da Paz (Peace Theater) are other attractions.
- At Mangal das Garças ecopark, with 40,000 m² area in the city's historical center one can see species such as the scarlet ibis. The place also has a watching deck known as Farol de Belém (Belém Lighthouse) that is 47 meters high.
The edition will be available on January 25, when São Paulo celebrates 467 years of foundation. The calendar below shows all release dates for this project.