IPCA
Inflation speeds up and stands at 0.43% in February
March 12, 2019 09h00 AM | Last Updated: March 12, 2019 10h58 AM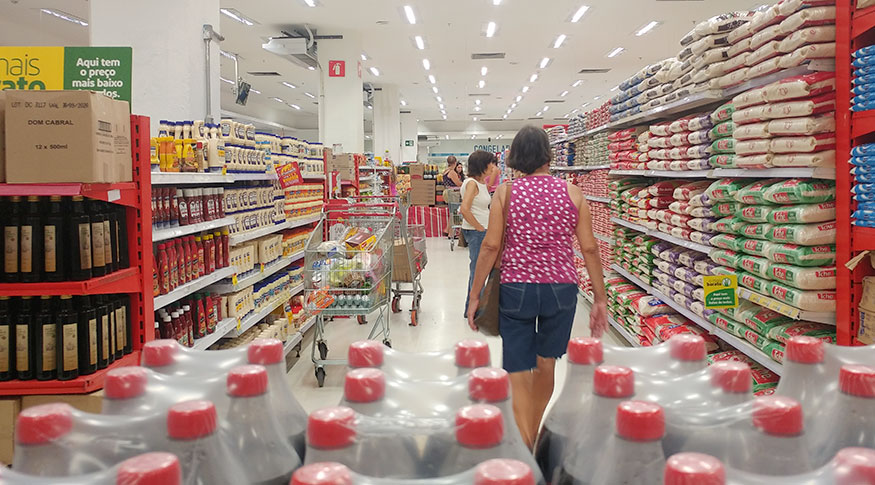 The Extended National Consumer Price Index (IPCA), which measures official inflation in the country, stood at 0.43% in February, above the 0.32% result of January. The acceleration was driven by food products and education, which were above inflation, with prices rising by 0.78% and 3.53%, respectively. In the cumulative rate in 12 months, the change was 3.89%.
In education, which had the highest growth among the nine groups surveyed, the high reflects the rises at the beginning of the school year, especially monthly fees for regular courses, which rose by 4.58%, exerting the highest individual impact on the IPCA in February.
Among the groups, food products exerted the greatest pressure on the national index, but decelerated in comparison with January, when the group registered 0.90%. Food at home increased by 1.24%, driven by the higher prices of carioca beans (51.58%), potatoes (25.21%), green vegetables (12.13%) and long-life milk (2.41%). On the other hand, food away from home fell by 0.04%, influenced mainly by the item meals (-0.22%).
According to the IPCA manager, Fernando Gonçalves, green vegetables' prices usually rise in this period. "The demand tends to increase in hotter seasons, so the changes become sharper."
Prices for the housing group rose 0.38% in February, pushed by a 1.14% increase in electricity, which impacted the IPCA by 0.04 percentage points (pp). Gonçalves explains that prices have risen due to the increase in PIS/COFINS tax rates in most of the regions surveyed. In the same group, the price of bottled gas fell 0.72%, even with the 1.04% increase in the refineries.
Airfares hold prices back
The transportation group fell 0.34% and, according to the IPCA manager, the 16.65% drop in airfare prices was what refrained February inflation, with the biggest single negative impact of -0.08 pp. "Airfares have a great weight in families' budgets. With vacations ending and school starting, prices started to fall, also due to the increase at the end of last year," Gonçalves said.
In addition to airfares, another item in the transportation group with falling prices was gasoline, which stood at -1.26%, helping to control inflation. Ethanol also fell by 0.81%, while diesel and natural gas rose by 0.36% and 7.75%, respectively.
The highest positive impact in transportation was urban buses, with a high of 1.50% and 0.04 percentage points of contribution, due to ticket increases in five of the 16 regions surveyed.