PNAD Contínua
Unemployment drops to 11.6%, informality hits record level
December 28, 2018 09h00 AM | Last Updated: December 28, 2018 11h59 AM
The unemployment rate dropped to 11.6% in the quarter ended in November. The Continuous PNAD, released today by the IBGE, estimated an increase of 1.1 million employed persons against the quarter closed in August. Nevertheless, most of these positions were generated by the informal labor market, which registered an increase of 528 thousand persons working for themselves and around 498 thousand persons in the private sector without a formal contract. As a result, informality hit a record level in the time series of the survey, started in 2012. 
The increase in the contingent of employees in the private sector without a formal contract hit 4.5% in this quarter, adding up to 11.7 million persons. The growth of the self-employed workers was of 2.3%, reaching 23.8 million persons. On the other hand, domestic work with a formal contract fell 4.4% in the quarter, with less 81 thousand persons employed.
According to Cimar Azeredo, IBGE´s coordinator of Labor and Income, informality is followed by a series of unfavorable factors like lack of stability, low earnings and lack of social security:
"A significant drop in the unemployment has been perceived since the second quarter of 2018, which would be excellent news except for the fact that it was followed by informality. In terms of quality, the recovery process fails, since this was the highest informality index measured by the Continuous PNAD since 2012".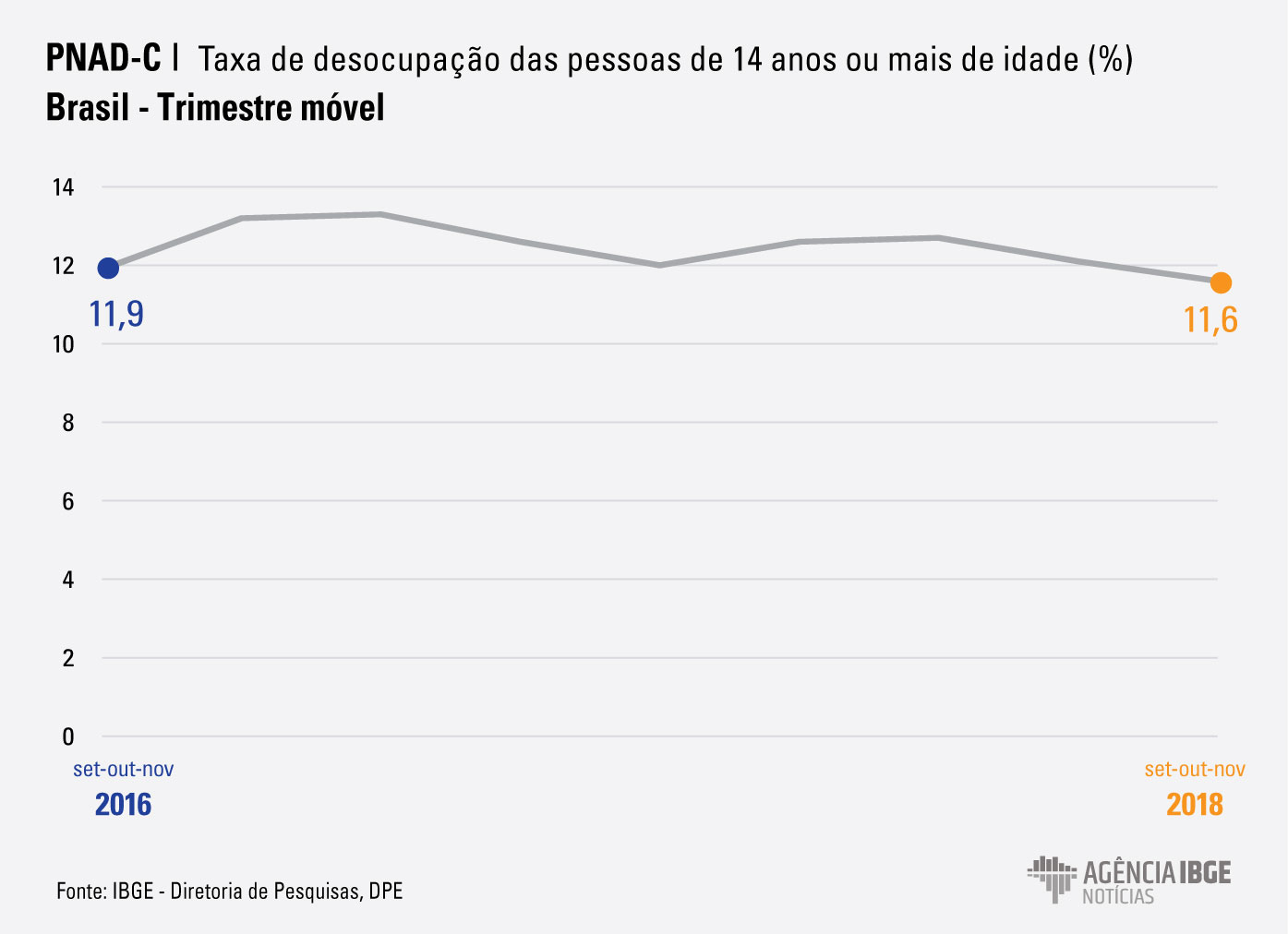 Among the activities that mostly increased in the quarter closed in November, some of them are typically informal, like Trade, repair of motor vehicles and motorcycles (more 266 thousand persons), Housing and food (more 163 thousand persons) and Other services (more 202 thousand persons).
Albeit the unemployment rate has dropped in relation to the same quarter of 2017, when it was 12.0%, and against 2016 (11.9%), it still represented nearly the double of the 2014 level, before the economic crisis, when it had recorded 6.5%. In absolute numbers, 12.2 million persons are looking for work in Brazil.
According to Azeredo, the lack of jobs with a formal contract led to a generation of work towards survival, like app drivers, street vendors and food services. As they do not feel safe, they do not invest in the acquisition of goods and it locks the labor market in a vicious circle.
"It is important that the labor market resumes jobs with a formal contract, in order to return to a virtuous circle of generation of employment and income, concludes Azeredo.
The survey also pointed out that the contingent of unemployed persons added to those time-related underemployed (7 million) and potential workforce (7.8 million) reaches 27 million underutilized persons in the quarter, which represents a compound rate of underutilization of the workforce of 23.9%.  Conversely, the total number of discouraged persons – those who did not look for a job – was estimated at about 4.7 million in the quarter.