Summary of Social Indicators
Poverty grows and poor population in 2017 amounts to 54.8 million
December 05, 2018 10h00 AM | Last Updated: December 06, 2018 10h47 AM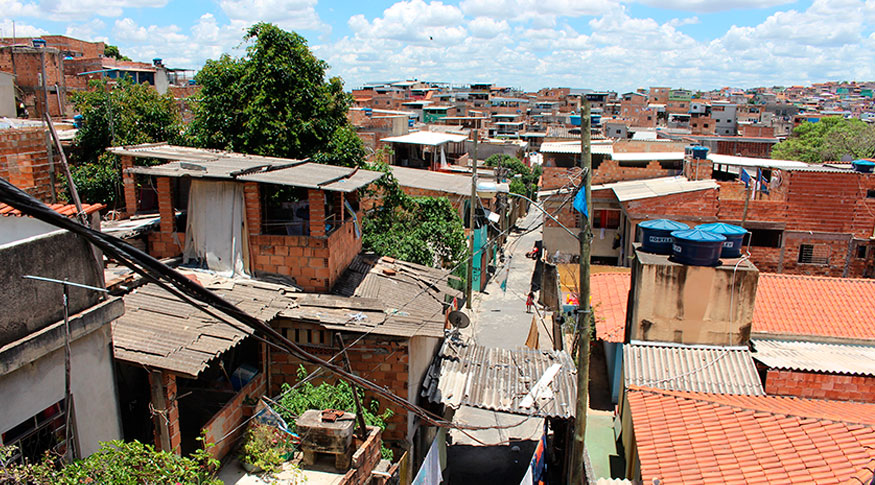 Brazil had 54.8 million persons living on less than R$ 406 per month in 2017, two million more than in 2016. That means the proportion of the population in condition of poverty rose from 25.7% to 26.5%, according to the Summary of Social Indicators, released today by the IBGE. The study employed some criteria from the World Bank, according to which  poor person is the one with a daily income bewlo US$ 5.5 or who earns R$ 406 per purchasing power parity.  
The Northeast concentrated the biggest percentage of those in condition of poverty, 44.8%, which is equivalent to 25.5 million persons. Among the Federation Units, the biggest prportion of poor people lived in Maranhão (54.1%) and Alagoas (48.9%. Porto Velho (RO) and Cuiabá (MT) were the only two capitals where the number of persons earning less than R$ 406 a month surpassed the figure in their respective states: in Porto Velho, 27%, versus 26.1% in Rondônia; in Cuiabá, 19.2%, versus 17.1% in Mato Grosso.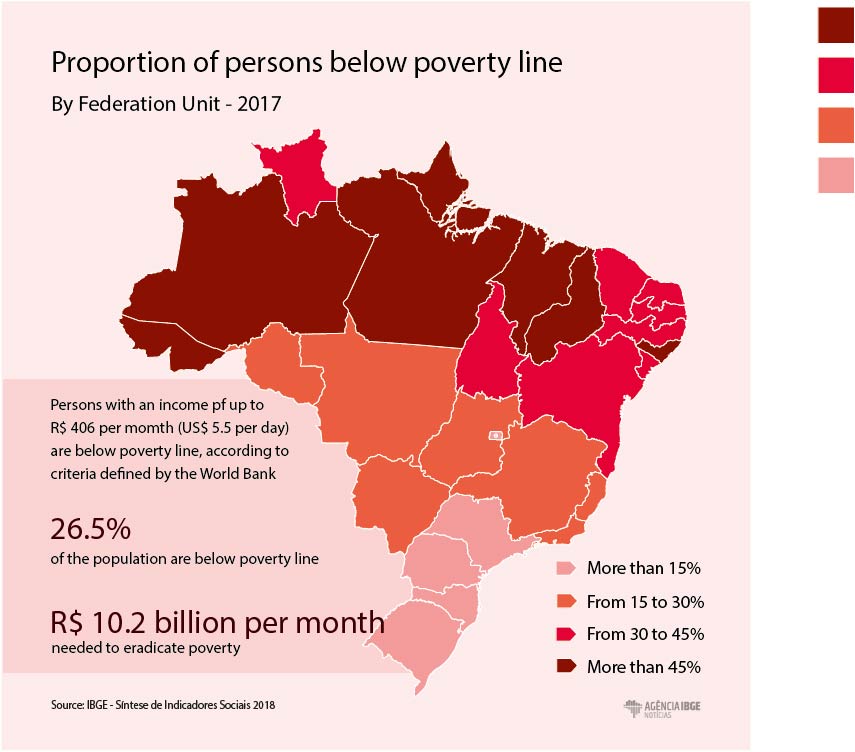 Black or brown women form most vulnerable group 
Ths most serious case among the 7.6 million residents of housing units inhabited by black or brown persons without a partner with cildren up to 14 years of age. Among those, 64.4% were below that incomer range of up to R$ 406 per month.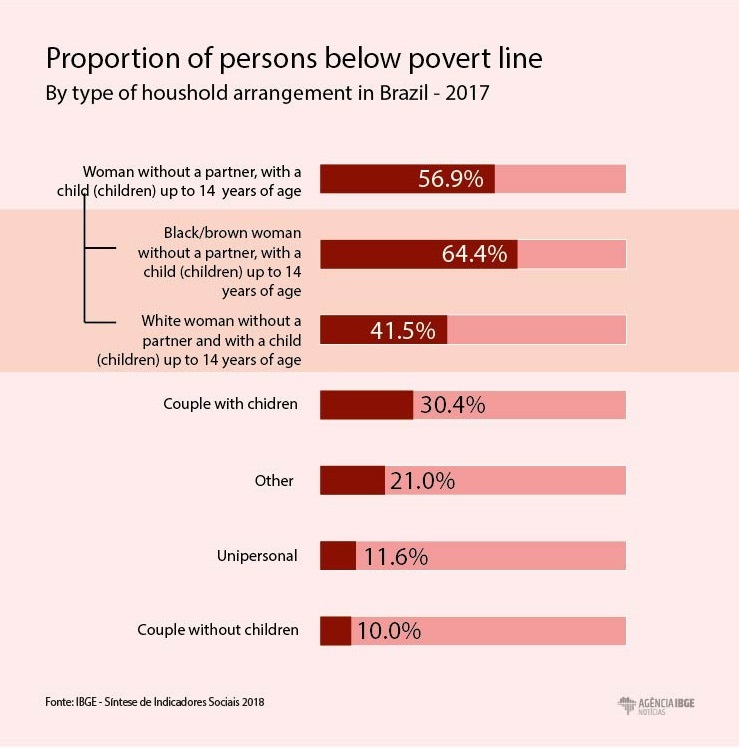 The study indicates that, in order to eradicate poverty, it would be necessary to invest R$ 10.2 billion per month in the economy, or to have an average increment of R$ 187 in the income ofeach person in that condition. The analysis pshows not only an increase of poverty, but also the intensity of it, since in 2016 that figure was R$ 183 more.
The analyst of the IBGE Summary of Social Indicators, Leonardo Athias, indicates that, besides governmental public policies, the improvement in the labor market conditions is one of the ways to help reduce poverty: "having opportunities, reducing unemployment and increasing formalization will certainly lead to a series of effects that may help people out of poverty condition".