Quarterly Accounts
Services press 0.8% rise of GDP in Q3
November 30, 2018 09h00 AM | Last Updated: December 06, 2018 10h55 AM
The GDP rose 0.8% in the third quarter over the second quarter of 2018. Released today by the IBGE, the data from the Quarterly Accounts show rises in Agriculture (0.7%), Services (0.5%) and Industry (0.4%). In the other comparisons, the changes were of 1.3% in relation to the same period in 2017, 1.4% in the cumulative index in four quarters and 1.1% in the cumulative rate between January and October 2018.
"As the sector with the highest weight in the GDP, Services influenced more the rate in spite of the highest growth in Agriculture", explained Rebeca Palis, IBGE´s Coordinator of National Accounts.
All the services activities increased between the second and third quarter, highlighted by transportation, storage and mailing, which rose 2.6%. "Such growth is somehow related to the truckers´ strike, like a compensation effect after the strike held in the second quarter", told Ms. Palis. The researcher also highlighted the growth in Trade, in line with the increase in the consumption of the households.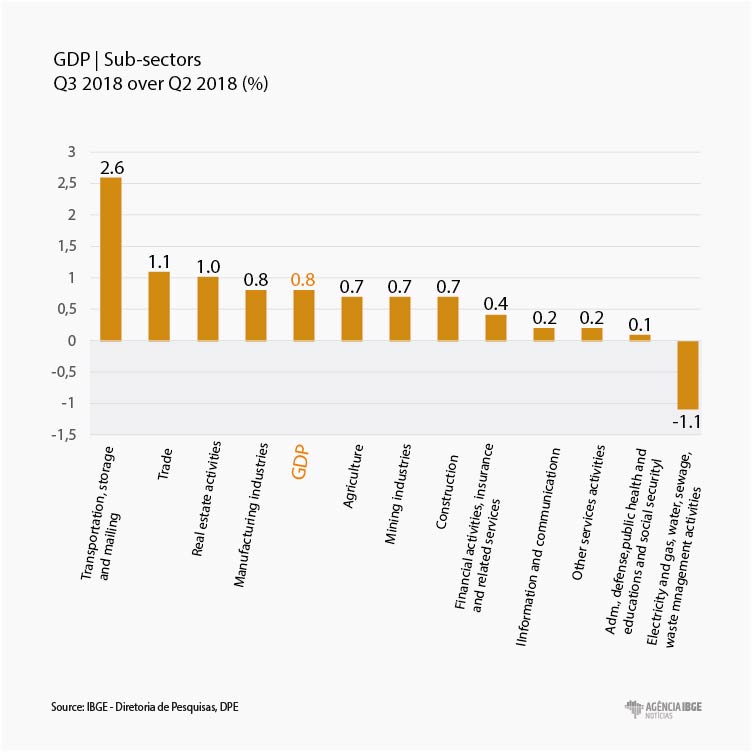 In Agriculture, the highlights were coffee and cotton, whose estimates of annual output and productivity increased, surpassing the weak performance of crops like sugarcane, cassava, orange and corn.
Among the industrial activities, manufacturing industries rose 0.8% and mining and construction, 0.7%. On the other hand, the activity of electricity and gas, water, sewage and waste management activities was the only one to show a negative result (-1.1%).
Domestic demand contributes to increase GDP
The consumption of households and government increased 0.6% and 0.3% in this comparison, respectively, whereas investments (gross fixed capital formation) rose 6.6%. Concerning the foreign sector, Exports of goods and services increased 6.7%, while Imports of goods and services rose 10.2% over the second quarter of 2018.
"Under the point of view of demand, domestic demand stood out, since the foreign sector contributed negatively as imports rose more than exports", explained Ms. Palis.
At current values, the GDP reached R$1.716 trillion in the third quarter of 2018, being R$1.464 trillion relative to Value added at basic prices and R$252.2 billion to Product taxes net of subsidies.