Child labor: more than 20 million children doing household chores
November 29, 2017 10h00 AM | Last Updated: November 30, 2017 10h32 AM
More than half of the children and teenagers aged 5 to 17 years old worked at home taking care of people or doing household chores, according to the Child Labor module of the Continuous Pnad 2016, released today by the IBGE. The survey showed that 20.1 million children dedicated, on average, 8.4 hours per week to those activities.
Besides care taking and household chores, subsistence work was also identified by the survey, and it was carried out by 716 thousand children, for 7.5 weekly hours on average.  
Survey analyst Flávia Vinhaes highlights that there is not, in Brazil, an official criterion to determine the number of maximum hours allowed for children to carry out those non-economic activities: "if the activities are heavier or take long periods of time, they are also related to child labor and must be eradicated because they affect the child's performance at school, lead to school evasion and can harm the child's health".
What calls the attention is the fact that 72.3% of the children aged 5 to 17 employed in economic activities were also working in the subsistence production and in the care of people or household chores. "That means that working in productive activities did not prevent those children from working in non-economic production and the proportion of employed children in those activities was higher than the non-employed ones," says Flávia.
It is in the Northeast that children dedicated more time to those other forms of work: 9.8 weekly hours, on average, considering both household chores and subsistence work. However, the South Region presented the biggest proportion of children involved with household chores (60.5%), and the North Region, the highest proportion of children working in subsistence work (3.4%).
Since childhood, household chores and care taking are female tasks
Girls aged 14 to 17 are more involved in care taking and in household chores than boys. The former dedicated, on average, 12.3 hours per week, whereas the latter spent 8.1 hours, according to the survey. Even among the younger groups, girls spent more time in those chores.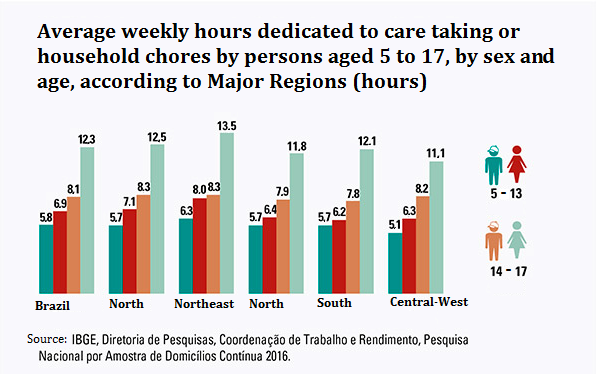 Text in Portuguese: Irene Gomes
Photo: Pedro Vidal
Art: Adapted graphs from the module Coninuous Pnad - Child Labor 2016, produced by IBGE/CDDI/GEDI