Wood production boosted by pulp and paper industry
September 28, 2017 10h00 AM | Last Updated: October 09, 2017 10h02 AM
With 85.2 million m3 and a output value of R$ 5.2 billion, the production of logged wood for pulp and paper increased 10.8% in 2016, against the figure in the previous year. The state of Paraná was the biggest producer in the sector, with 15.9 million m3, an increase of 43.9% in relation to the 2015 figure. Having produced 3.5 million m3, Telêmaco Borba/PR was the leader of national production. A total 80.2% of the total amount came from areas planted with eucalyptus trees, and 18.8%, with pine ones.
These figures come from the Survey of Forestry Activities (Pevs), which investigated 44 products all over the country, with 37 collected from native forests (wild-crop harvesting) and seven from planted forests (silviculture). Of the R$ 18.5 billion the value of output reported by the survey, which correspond to an increase of 0.8% in relation to 2015, 76.1% came from planted forests, whereas 23.9% were collected from native forests. Wood products amounted to 89.8% of the total (R$ 16.7 billion).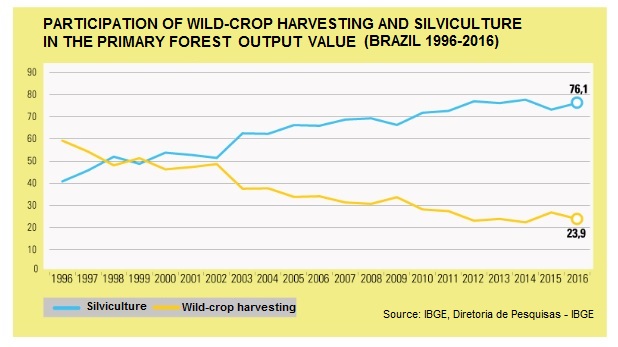 The increase of pulp and paper industry contributed to the increase of the logged wood production, mainly in the South of the country, which represents 33.2% of the total. The IBGE analyst, Winicius Wagner, explains an aspect of great relevance to this sector: "The expansion of the industrial plant of pulp andf paper in Paraná, last year, turned the state into the main national producer. This position had been taken by São Paulo before, but the state is now in the second position, with 14.7 million, and a decrease of 5.4%". The annual report of the Brazilian Industry of Trees (Ibá) shows the results of Pevs in relation to international figures. According to the Ibá, in 2016, Brazil was the second main producer of pulp and the number eight producer of paper in the world.  
Among the wood producers extracted from native forests, there was decrease in the amount of charcoal (-31.7%), firewood (-7.4%) and logged wood (-7.0%). According to Winicius, "the decrease in figures may have resulted from a more severe environmental regulation and bigger control from inspection bodies, as well as the unavailability of the mining and quarrying sector".
Text: Pedro Renaux
Gaph: Valberto Alves 
Photo: Lícia Rubinstein