Agricultural production
August estimate indicates record harvest of 261.7 million tonnes in 2022
September 08, 2022 09h00 AM | Last Updated: September 09, 2022 12h46 AM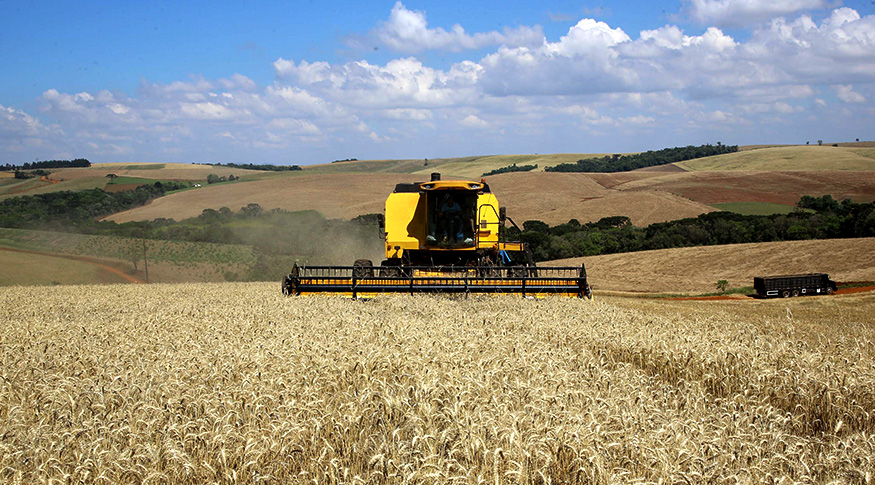 The national harvest of cereals, legumes and oilseeds is expected to reach a record of 261.7 million tonnes, according to the June estimate of the Systematic Survey of Agricultural Production (LSPA), released today (8) by the IBGE. This value is 3.3% higher (or 8.5 million tonnes) than the harvest obtained in 2021 (253.2 million tonnes) and 0.7% lower than the July estimate (1.8 million).
The remainder is temporarily in Portuguese.
"Apesar da redução de 0,7% de julho para agosto, a projeção para 2022 continua sendo recorde. A redução ocorreu devido a problemas climáticos. As principais variações negativas ocorreram no Paraná (-865.300 t), em Goiás (-559.010 t), em Minas Gerais (-532.786 t), no Ceará (-70.185 t), em Alagoas (-24.753 t), no Espírito Santo (-30 t) e no Piauí (-10 t). Mas vale ressaltar que a área colhida alcançou 73 milhões de hectares, 6,5% maior (mais 4,5 milhões de hectares) que a área colhida em 2021, e 0,1% maior (mais 61,1 mil hectares) que no mês anterior. Esses números mostram que os produtores têm investido no aumento da produção da safra devido aos preços elevados das commodities agrícolas", destaca o gerente da pesquisa, Carlos Barradas.
O arroz, o milho e a soja são os três principais produtos da pesquisa. Somados, eles representam 91,5% da estimativa da produção e respondem por 87,1% da área a ser colhida.
Em relação ao ano anterior, houve acréscimos de 9,8% na área do milho (aumento de 7,7% no milho 1ª safra e de 10,5% no milho 2ª safra), aumento de 17,7% na do algodão herbáceo (em caroço), de 4,7% na da soja e de 9,0% na do trigo e declínio de 2,6% na área do arroz.
 Além do recorde na produção nacional de cereais, leguminosas e oleaginosas, em 2022 as produções do milho e do trigo também devem alcançar novo recorde. Barradas observa que, no caso do milho, praticamente não houve problemas na segunda safra, ao contrário do ano passado quando faltou chuvas, havendo aumento de 35,3% em relação à 2021, o que explica o salto de 25,2% na produção total do milho em 2022.
Para Barradas, além do milho, o grande destaque nas estimativas da safra de 2022 é a manutenção nas estimativas de produção do trigo, uma cultura muito sensível ao clima – falta ou excesso de chuvas, geada. "Até o momento não tivemos problemas de clima e estamos caminhando para uma safra recorde do trigo, 9,7 milhões de toneladas, aumento de 24,1% em relação ao que foi produzido em 2021. O aumento da produção nacional do trigo é uma resposta do produtor brasileiro às restrições da oferta internacional devido aos problemas da guerra da Ucrânia", analisa Barradas.
Principal commodity do país, a soja cresceu 0,1% em relação à julho, mas tem queda de 11,9% em relação a 2021. A redução se deve à falta de chuvas, no centro sul do pais – Paraná, Rio Grande do Sul, Mato Grosso do Sul e Goiás – no ano passado, afetando o volume de produção. "Apesar dos produtores terem aumentado a área de plantio da soja, os problemas climáticos derrubaram o potencial de produção agrícola da soja brasileira em 2022. A perda de produtividade está diretamente relacionada aos problemas climáticos", diz o gerente da pesquisa.
Ele acrescenta que tanto a produção do arroz quanto a do feijão, devem atender o consumo do mercado interno. Quanto ao café, o Brasil deve produzir 3,2 milhões de toneladas, somando as espécies arábica e canephora, ou 53,2 milhões de sacas de 60 kg, crescimento de 0,9% em relação ao mês anterior, e aumento de 9,6% em relação a 2021.
 "Em 2022 teríamos um ano de bienalidade positiva para o café arábica, e deveria produzir mais do que está produzindo. Isso não está ocorrendo porque o clima seco e excessivamente frio do inverno de 2021 reduziu o potencial de produção do café arábica. Os grandes produtores são Minas Gerais, São Paulo, Bahia e Espírito Santo. O café canéfora tem grande produção no Espírito Santo e Rondônia. Essa espécie cresce 9,4% em relação a 2021", diz o gerente da pesquisa.
Quatro regiões apresentam alta nas estimativas de produção
Em agosto, a estimativa da produção de cereais, leguminosas e oleaginosas apresentou alta na comparação com 2021 em quatro Grandes Regiões: a Centro-Oeste (11,4%), a Norte (11,0%), a Sudeste (10,8%), a Nordeste (10,3%), e negativa para a Sul (-14,6%). Quanto à variação mensal, apresentou aumento a Região Norte (2,1%), enquanto as demais apresentaram declínio: a Centro-Oeste (-0,4%), a Sul (-1,3%), a Nordeste (-0,3%) e a Sudeste (-1,9%). 
Mato Grosso lidera como o maior produtor nacional de grãos, com participação de 30,8%, seguido pelo Paraná (13,2%), Goiás (10,3%), Rio Grande do Sul (9,8%), Mato Grosso do Sul (8,1%) e Minas Gerais (6,5%), que, somados, representaram 78,7% do total nacional. Com relação às participações das regiões brasileiras, tem-se a seguinte distribuição: Centro-Oeste (49,6%), Sul (25,1%), Sudeste (10,4%), Nordeste (9,7%) e Norte (5,2%).
Sobre o LSPA
Implantado em novembro de 1972 com o propósito de atender às demandas de usuários por informações estatísticas conjunturais mensais, o LSPA fornece estimativas de área plantada, área colhida, quantidade produzida e rendimento médio de produtos selecionados com base em critérios de importância econômica e social para o país. Ele permite não só o acompanhamento de cada cultura investigada, desde a fase de intenção de plantio até o final da colheita, no ano civil de referência, como também o prognóstico da safra do ano seguinte, para o qual é realizado o levantamento nos meses de outubro, novembro e dezembro. Acesse os dados no Sidra.