Tide Gauge Network
IBGE detects rise in sea level caused by tsunami in Tonga
January 21, 2022 10h00 AM | Last Updated: January 21, 2022 04h00 PM
At a glance

IBGE´s Tide Gauge Station of Arraial do Cabo (RJ) detected the phenomenon 17 hours after tsunami.
Sea level in Brazilian coastline rose more 8 centimeters than expected.
IBGE maintains Geodetic Permanent Tide Gauge Network (RMPG) with six active stations in Brazil.
The tsunami occurred in Tonga Archipelago after a volcanic eruption in the Pacific Ocean on January 15 was detected 17 hours later in Brazil. In the IBGE´s Tide Gauge Station located in Arraial do Cabo (RJ), a rise in the sea level in the Brazilian coastline was detected at 6:20 PM (Brasília time).
"There was a significant gap between the astronomical forecast of the tide and the height of the local sea level," states Everton Gomes dos Santos, an IBGE surveyor engineer. "The temporary disturbance was of 8 centimeters. Soon after nearly one day, the sea began to return to the normal level," adds the technician.
Besides Arraial do Cabo (RJ), the IBGE maintains five other active tide gauge stations, located in the cities of Imbituba (SC), Salvador (BA), Fortaleza (CE), Belém (PA) and Santana (AP). However, they did not detect the phenomenon. The set of six stations comprise the Geodetic Permanent Tide Gauge Network (RMPG).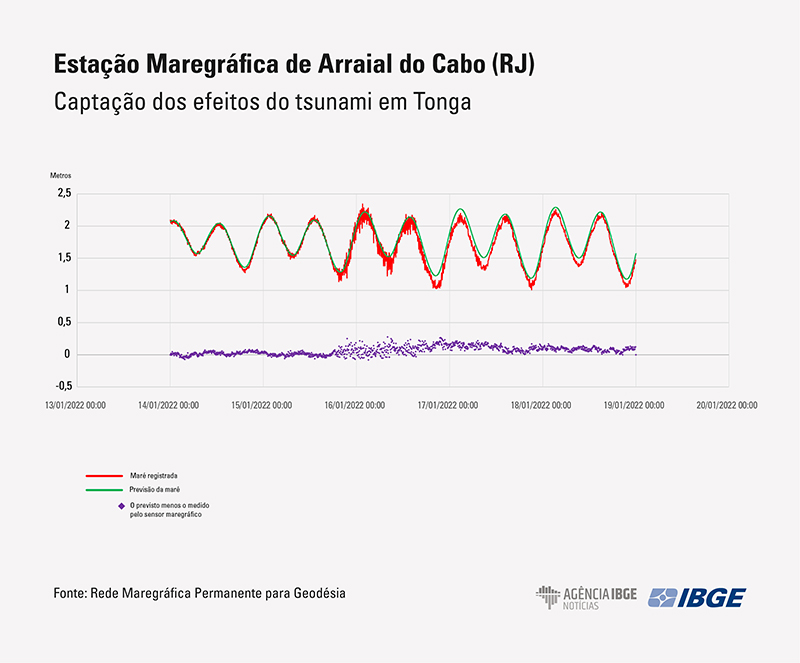 The information produced by the RMPG are useful for a number of applications, like the reduction of drilling for the conservation and capacity expansion of ports and waterways, implementation of infrastructure – ports, roads, water and sewage networks, etc. – in coastal regions, and study of possible measures to adapt and mitigate the impact of the rise in the average sea level, among other applications.
At the international level, the network contributes to the Global Sea Level Observing System and to the Caribbean Tsunami Warning Program of the Unesco´s Intergovernmental Oceanographic Commission, which significantly lacked information from the South Atlantic.
Besides the violent eruption of the Hunga Tonga Hunga Há'apai volcano, which devastated islands and destroyed houses in Tonga, similar phenomenons have already been captured by the RMPG before. In 2004, a tsunami in the Indian Ocean, which killed more than 200 thousand, was detected one day after by the Tide Gauge Station of Macaé (RJ), currently disabled. The propagation of major earthquakes in 2010 in Chile have also been registered.
The data are available to the public and can be downloaded in daily updated files on RMPG.