Land Use and Cover
Country lost 7.5% of its forests between 2000 and 2016
November 12, 2018 10h00 AM | Last Updated: November 16, 2018 01h22 PM
The new version of the Monitoring of Land Use and Land Cover of Brazil, put out today by the IBGE, shows that the country lost 7.5% of its forest vegetation in 17 years. In 2000, this area, equivalent to 4,017,505 km2, decreased to 3,719,801 km2 in 2016.
The study also shows that, from 2014 to 2016, more than 62 thousand square kilometers of the national territory suffered some kind of alteration. During the same period, there was a reduction of areas of natural vegetation and expansion of agricultural areas and of forestry, but at a slower pace than in the previous surveys.
The new pasture areas are mainly concentrated on the edges of the Amazon biome. The expansion of the agricultural area occurred in the southeast of Rondônia, in the region of Paragominas (PA), between the municipalities of Campo Grande (MS) and Cassilândia (MS), and in the region of the Campanha Gaúcha (RS).
 Evolution of Land Use and Cover in Mato Grosso – 2000 and 2016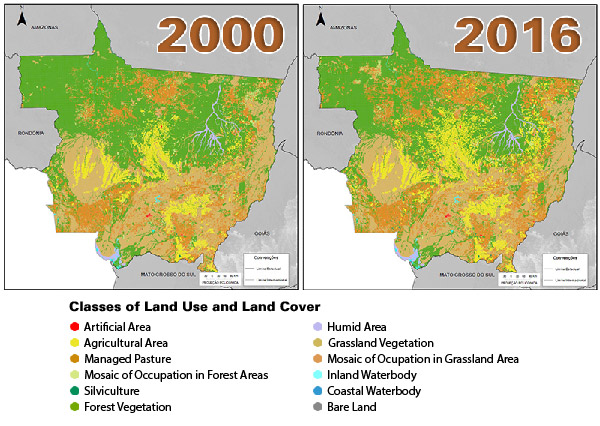 According to the IBGE supervisor, Ana Clara Alencar, based on data on land use and land cover, it is possible to understand the dynamics of land occupation and use, as well as to monitor the evolution and transformation of the Brazilian territory." In addition, it allows for the integration with all other social and economic indicators," she added.
The results released in this edition bring data for the years 2000, 2010, 2012, 2014 and 2016.