IBGE releases Continuous Vector Cartographic Basis for Espírito Santo
December 06, 2018 10h00 AM | Last Updated: December 06, 2018 11h17 AM
The IBGE releases, today, the continups (vector) cartographic basis for Espírito Santo (BC100_ES), at the 1:100,000 (1cm = 1.000m) scale, and which can be accessed for free here. That is the second group of geospatial vector data of the BC100 Project. In digital format n order to be used in Geographic Information Systems, the cartographic basis informs spatial positioning, geographic names and the classification of the elements represented. 
The BC100 Project will map out all the 27 Federation Units at the 1:100,0000, scale, thus resulting in a cartographic product even more detailed than the ones currently available. In 2016, the IBGE launched the cartographic bases of Goiás and of the Federal District. With this release, the project now also includes the mapping of three Federation Units. The continuous cartographic bases in this project are generated by means of the interpretation of images from the RapidEye satellite obtained in 2013 and 2014, and complemented with information produced by partner institutions and governmental agencies.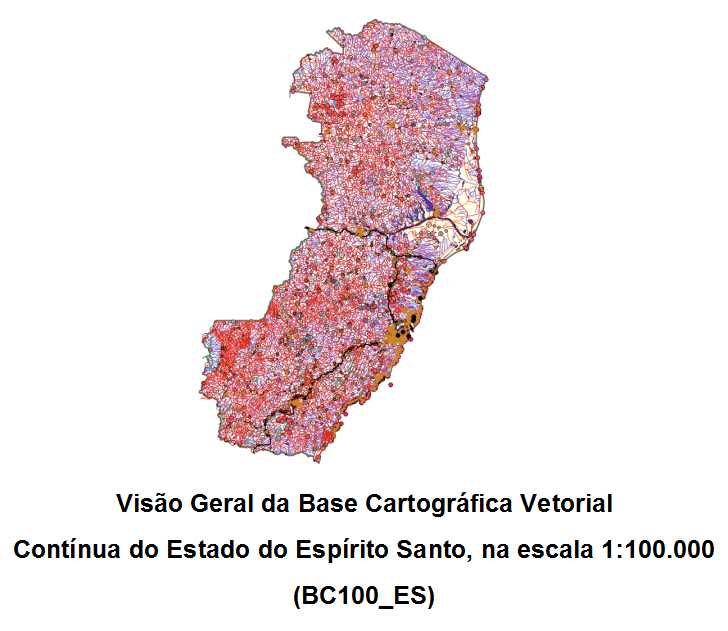 The digital files which form BC100_ES are in free format (Shape File, GeoPackage and Dump of the PostGIS database), to be used in Geographic information Systems (SIG), compatible with several softwares that read this type of data.  BC100_ES presents information on the categories Hydrography, Transportation System, Energy and Communications, Water Supply and Basic Sanitation, Education and Culture, Economic Struture, Relief, Localities and Boundaries of the area represented. The geodetic reference system is SIRGAS2000, with a system of geographic coordinates.
The product presents a list with geographic names in CSV format, to be accessed in GIS environments where it is possible to specify, by meas of their geographic coordinates, all the geographic name that are part of the basis, represented by points. The geographic names present in the lists are associated, besides their latitude and longitude, to the respective categories and classes of elements represented. 
The main applications of the base include governmental programs with a focus on the territory, thus enabling analyses that demand a broad view of the Federation Units and that provide elements for thematic representations - of social, economic and environmental nature - of the territory. BC100_ES can also be accessed on the INDE geoportal and their metadata are avalable in the IBGE metadata catalog.