IBGE and CNM sign cooperation agreement for 2022 Census
April 27, 2022 11h00 AM | Last Updated: April 27, 2022 04h20 PM
Yesterday (April 26), the exact same day President Eduardo Rios Neto celebrated one year ahead of the IBGE, an agreement that strengthens the partnership between the Institute and the National Confederation of Municipalities (CNM) was signed. The partnership is aimed at exchanging information between the two institutions in the carrying out the 2022 Census, which begins on August 1st.

The agreement was signed at the opening session of the XXIII March to Brasília in Defense of Municipalities, organized by the CNM, at the International Convention Center of Brazil. The event was attended by more than 3,000 mayors from all over the country. "Municipal partnerships are the open veins of the IBGE in the Brazilian territory", defined Mr. Rios Neto, in a brief speech.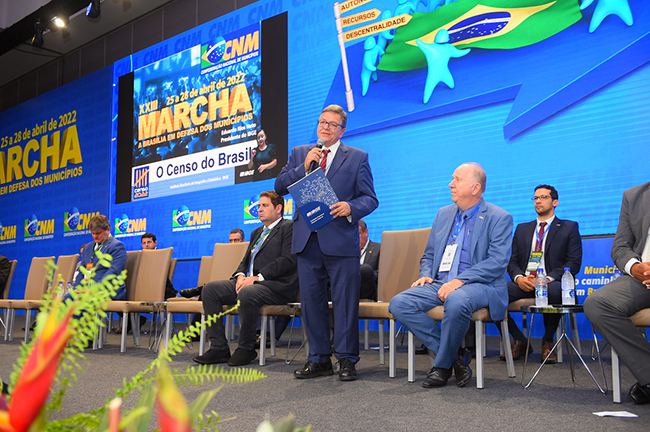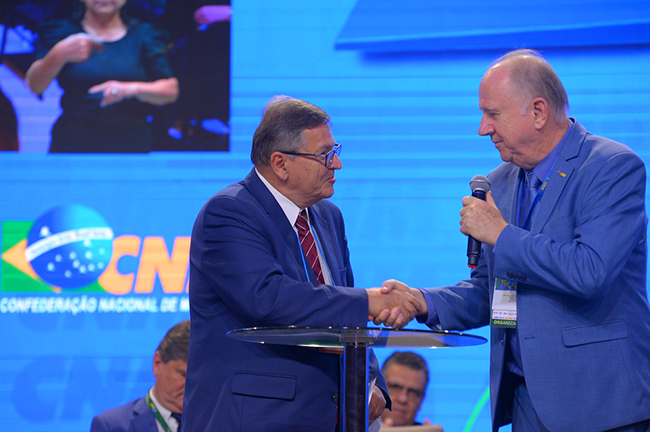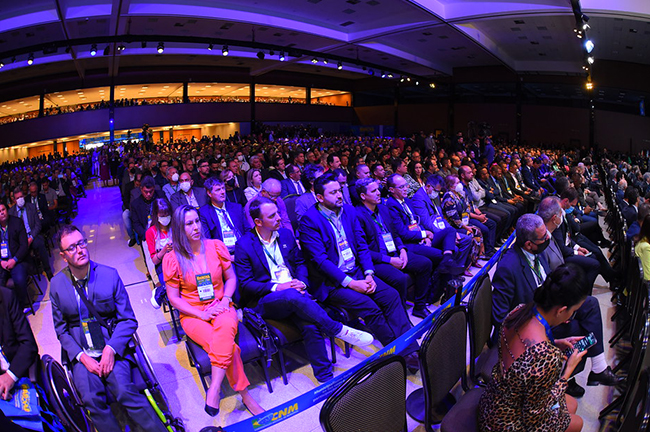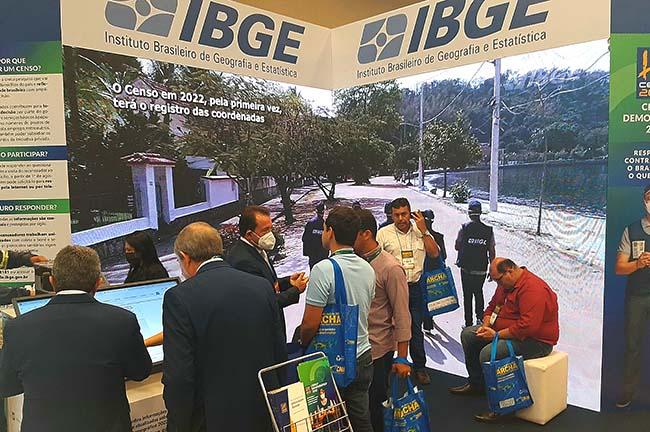 "Without information, there is no planning, and information for citizenship is the mission of the IBGE", emphasized the president to an audience formed mainly by municipal managers, such as mayors, councilors and secretaries. Directors of the Institute and heads of IBGE state branches were also present.

The president of the CNM, Paulo Ziulkoski, highlighted the long-standing partnership with the IBGE and emphasized the importance of the data provided in the sharing of resources from the Municipal Revenue Fund, a constitutional transfer from the Federal Governemnt to the states, which transfer them to the municipalities. "The Fund requires precise numbers for the division in quotas. And each quota represents between R$ 2.5 million and R$ 3 million annually in the municipal revenue", he explained. "It is up to the city halls to help the IBGE in the enumeration of each citizen", he pointed out.

During the XXIII March, the IBGE also holds a 16-square-meter booth to answer mayors and the general public, disseminating products, information and other tools that can help support municipal public policies. A LED screen, more than 3 meters high, draws the public's attention to the importance of the 2022 Census, showing images of the National Census Test, held in November last year in the 27 Federation Units. Printed material (pamphlets and booklets) is also available to booth visitors.

Also within the scope of the March, a session will be offered with technical information on how municipalities can contribute to the 2022 Population Census. IBGE's participation in the event effectively consolidates the Institute's mission.