New service
IBGE portal now certifies enterprises up to date with statistical obligations
January 07, 2022 09h00 AM | Last Updated: January 10, 2022 10h35 AM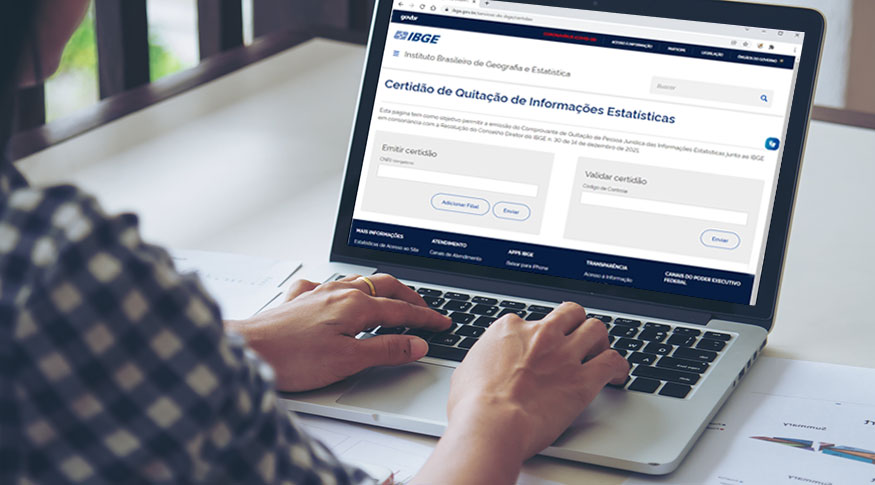 The IBGE portal brings a new feature: the System of Issuance of Acquittance Certificate of Statistical Information by Enterprises. Previously available in nearly 45 days, the certificate is now available immediately for download once requested by users. One should only fill the CNPJ of the enterprise to issue the document.
The document certifies that the entity has provided all the statistical information to the IBGE, i.e., it answered the questionnaires of the surveys for which the entity was selected. Enterprises that do not belong to a sample of any survey can also request a certificate.
"The certificate is issued only if the enterprise is up to date with its obligations to the IBGE. In case of any pendency, the system will guide the applicant to the Call Center, explains Vinicius Mendonça Fonseca, manager of the Central Register of Enterprises.
According to Law no. 5,534, of November 14, 1968, every natural or legal person, either of public or private nature, should provide any information requested by the IBGE in order to carry out the National Statistical Plan.
"Many offices require the certificate for enterprises to participate in bids and borrow money," exemplifies Fonseca.  "More than 1,500 certificates were issued last year. With the new system, more than 250 certificate have already been issued this year."
Besides issuing the certificate, the system also allows to check the expiration and authenticity of the document, avoiding frauds or the presentation of expired certificates.
Get to know the surveys included in the new system
Registers and Classifications
- Central Register of Enterprises (CEMPRE)
- System of Register Maintenance (SIMCAD)
Structural and Special
- Annual Survey of Construction Industry (PAIC)
- Annual Survey of Trade (PAC)
- Annual Survey of Services (PAS)
- Annual Survey of Industry: Enterprise (PIA)
- Annual Survey of Industry: Product (PPROD)
- Survey of Innovation (PINTEC)
Short-term Statistics
- Monthly Survey of Industry: Physical Production (PIM-PF)
- Monthly Survey of Trade (PMC)
- Monthly Survey of Services (PMS)
Agricultural Statistics
- Quarterly Survey of Animal Slaughter (Slaughter)
- Quarterly Survey of Leather (Leather)
- Quarterly Survey of Milk (Milk)